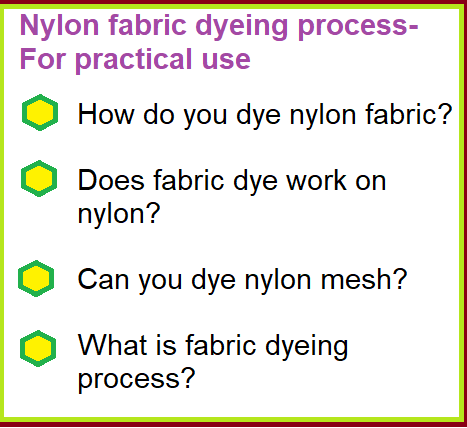 The nylon fabric dyeing process is an exclusive dyeing process in the textile industry. There are different nylon dyeing method is available to use. Today I am discussing the nylon fabric dyeing process with acid dyes. These acid dyes are effective for protein fiber.
As a result wool, silk, nylon, and modified acrylic can dye easily. Acid dyes has also good fastness properties than basic dyes. Acid dyes are highly soluble in water and create a negative charge and interact with the positive charge of fiber. As a result, Van-der-Waals bonds, dipolar bonds, and hydrogen bonds are formed between dye and fiber.
Some related questions and answers about the Nylon dyeing process:
How do you dye nylon fabric?
Does fabric dye work on nylon?
Can you dye nylon mesh?
What is the fabric dyeing process?
Answer: 1. Nylon fabric is dyed with acid dyes. 2. Yes fabric dye work on nylon. 3. Yes nylon mesh can dye easily. 4. The nylon dyeing process is given below.
100% Nylon Fabric Dyeing Process:
Dyeing of nylon fabric with the acid dying process is below step by step-
Load the fabric
⇓
Normal hot with oxalic acid and detergent
⇓
Raise temperature to 70⁰C
⇓
Run time 10min
⇓
Drain & fill
⇓
Leveling (PH=4.50-5.0)
⇓
Dyes Dosing 20-minute Temperature 40⁰C
⇓
Runtime 10 minute
⇓
Temperature Increase 98⁰C (1⁰C/minute)
⇓
Runtime 30 minute
⇓
Colling 80⁰C (1⁰C/minute)
⇓
Shade check
⇓
If everything ok then
⇓
Bath Drain
⇓
Cold rinse 10 minute
⇓
Soaping agent Inject (pH5.00)
⇓
Raise the temperature to 80⁰C
⇓
Runtime 15minute
⇓
Cold wash10 minute
⇓
Fixing
⇓
Cold water wash 15 min
⇓
If the water is clear then
⇓
Softener   (pH 5.00-5.50)
⇓
Unload
Process Description Of Nylon Dyeing Process:
In the nylon fabric dyeing process, Load the fabric at a normal 30⁰Ctemperature. Firstly hot the fabric at 800c with oxalic acid and detergent to remove the dust, dirt, iron, etc. Then Control the ph between 4.5-5. Inject the leveling agent and raise the temperature to 40⁰C. Dossing the dyes for 20min.
After that rise, the temperature was 980c with a grade of 10c per minute. Here grade is essential for better leveling of dyes stuff. Run here for 30min. Cooling at 80 with grade 10⁰C per min. Check the shade with the required standard. Drain the dying bath if the shade is ok.
If it a not ok dye can add to the dye bath and rise the temperature again. shade check after cooling the at 800c. If ok then drain.
Here rinse with a need of up to 10min to remove the loose dyes from the fabric surface. Speaking needs according to shade %.
Finally fixing agent is used for better fix-up of acid dyes and unload the fabric with ph 5-5.5.
100% Nylon knit fabric dyeing process flow chart: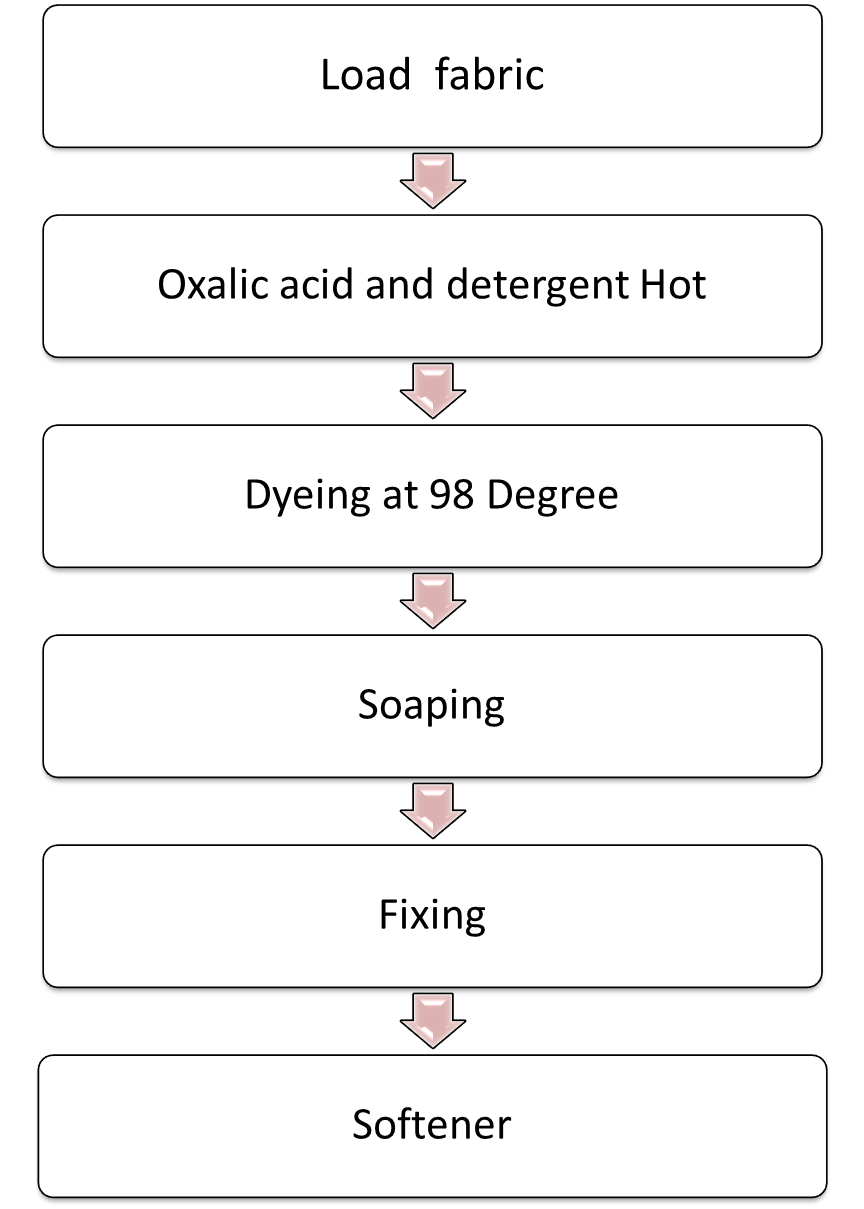 Conclusion:
This Nylon fabric dyeing process is using many reported factories for production. They get better results from this process. My tips and tricks for using this process for better results-
PH must have control properly.
Should not use temperature upper than 100⁰C.
Stenter and dryer should be at 100⁰C.
You can find us on:
ANY CONFUSION JUST ASK HERE