Have you ever wanted to tie-dye a plain white t-shirt but don't know how? Or maybe you have a colored shirt that you want to transform with some creative tie-dye? We're here to show you that it is possible and easier than you think! In this blog post, we'll share some tips on how to successfully tie-dye a colored shirt.
What You Need for Successful Tie Dye
Tie-dye is a fun and creative way to add colour to your wardrobe. With the right supplies, you can create vibrant and unique designs on all kinds of fabrics. Here's what you need to get started:
• Fabric: Natural fibers work best, such as cotton, rayon, hemp, linen and ramie. You can also use synthetic fibers like polyester or lycra.
• Dye: Tie-dye kits come with everything you need for dyeing, including urea and soda ash for setting the color. You can also purchase dyes separately in a variety of colors.
• Gloves: Wear gloves when mixing and applying the dye to protect your hands from staining.
• Rubber bands: These are used to create patterns by folding the fabric into desired shapes before applying the dye.
• Funnel: This is optional but will help when transferring dye into smaller containers or bottles.
Once you have all of these supplies, follow these easy step-by-step instructions for tie-dye success! Start by folding the fabric into desired shapes then putting rubber bands over each fold at different intervals before dying both sides of the clothing item with even coverage using gloves. Allow it to sit for several hours –the longer it sits, the more vibrant your colors will be! Afterward, rinse out any excess dye until clear water runs freely from the fabric then hang dry in a well-ventilated area away from direct sunlight
Tips for Preparing a Colored Shirt for Tie Dye
Tie dyeing is a fun and creative way to create unique, vibrant designs on shirts. It's possible to tie dye a colored shirt, but there are certain steps that must be taken in order to get the best results. Here are some tips for preparing a colored shirt for tie dye:
1. Rinse the shirt in cool water until the water runs clear. This will remove any dirt or residue from the fabric before you begin tie-dyeing.
2. Wash the shirt using hot water and regular detergent or specialty dyes designed specifically for tie-dyeing.
3. If you're doing a bleach tie-dye, start with a black or dark-colored shirt, which will lighten when exposed to bleach during the process.
4. Crumple up your shirt into a ball and wrap it with six to 10 rubber bands tightly around it so that you can create unique patterns when applying dye later on.
5. Use anywhere from two to four colors of dye when creating your design depending on how bright and vibrant you'd like your finished product to be .
6 . Follow directions provided by your dyes carefully if you want professional looking results!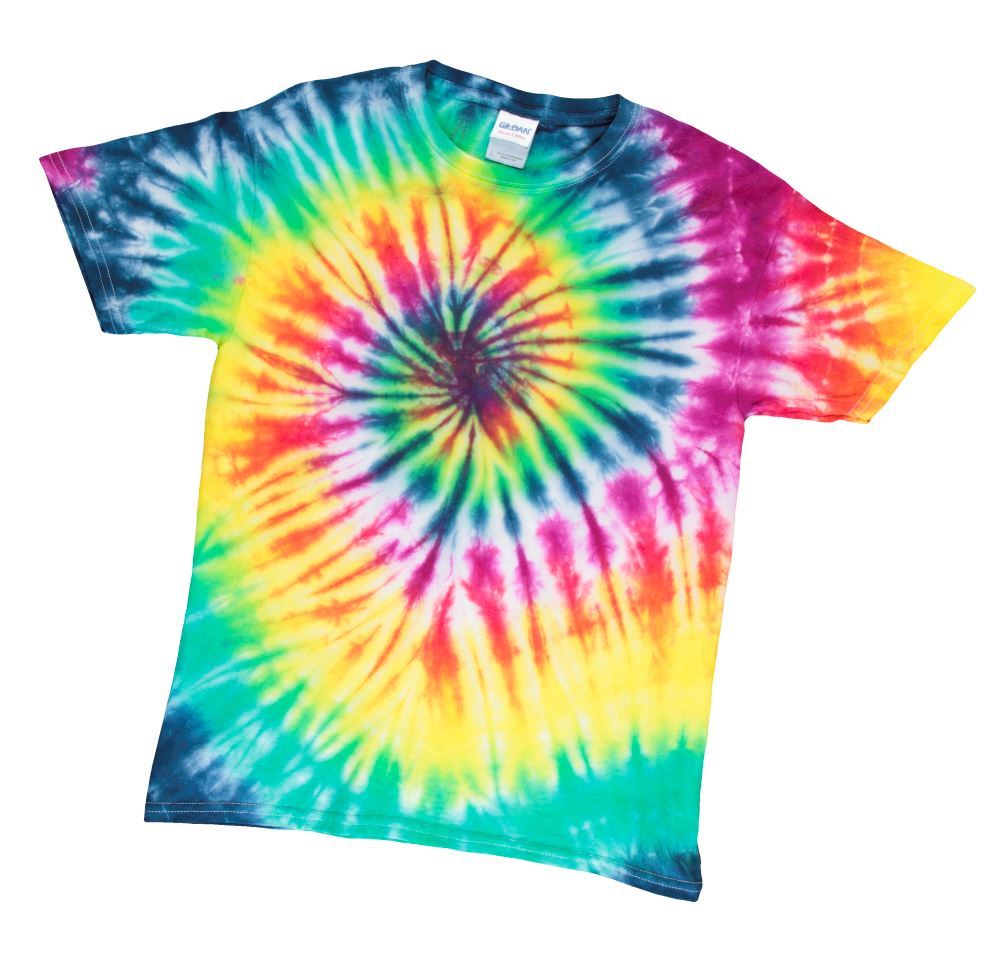 How to Create the Ideal Tie Dye Color Palette
Creating the ideal tie-dye color palette doesn't have to be a daunting task. With a few simple tips and tricks, you can create beautiful and unique designs that are sure to impress!
First, decide on your primary colors. The three common primary colors for tie-dye are fuchsia, turquoise, and lemon yellow. These colors will form the basis of your design and provide a bright contrast against any colored fabric.
Next, mix your dye according to the instructions on the package. Depending on the type of dye used, you may need to add additional ingredients such as salt or soda ash in order to lock in color. Make sure all dyes are mixed properly before use!
Once all dyes are mixed, it's time to apply them to your shirt. To achieve an even coverage across all areas of the shirt, fold it into a spiral shape and tie it securely with rubber bands or string. Then, begin applying dye from lightest shades at the center and work outward towards darker shades using sponges or brushes. Allow each layer of color to dry completely before moving onto the next one!
Finally, when you're happy with how your design looks, rinse out any excess dye until water runs clear from the shirt. Hang up your creation somewhere warm but out of direct sunlight and allow it to air dry completely before wearing or washing it.
With these simple steps in mind, creating an ideal tie-dye color palette is easier than ever! So grab some brightly colored fabric and some quality dyes today – you'll be creating amazing designs in no time!
Methods of Applying Color to Fabric
Methods of applying color to fabric can range from traditional tie-dyeing to dyeing with fiber reactive dyes. Tie-dye is a resist-dyeing technique that often uses bright, saturated colors and bold patterns. To tie dye, first, fold or crumple the fabric and then bind it with rubber bands or string. Soak the fabric in water for about 30 minutes before adding the dye, then apply the dye according to package instructions. The cold-water, squirt-bottle tie-dye technique only works with fiber-reactive dyes. If you try it with all-purpose dyes, the colors will pale when washed.
It's absolutely possible to dye a colored piece of fabric as well. There are two main options for doing so: overdyeing and bleaching. Overdyeing involves simply adding color to a pre-dyed fabric while bleaching is a method used on dark-colored fabrics that results in lighter or brighter colors showing through the original color when tie-dyed. When tying dying on silk or wool or other protein fibers, keep in mind that Fiber Reactive colors shift on these fibers, and you cannot get a true black. After applying your desired color(s), launder your shirt on its own using hot water and the highest heat you can use for the fabric to permanently affix the colors.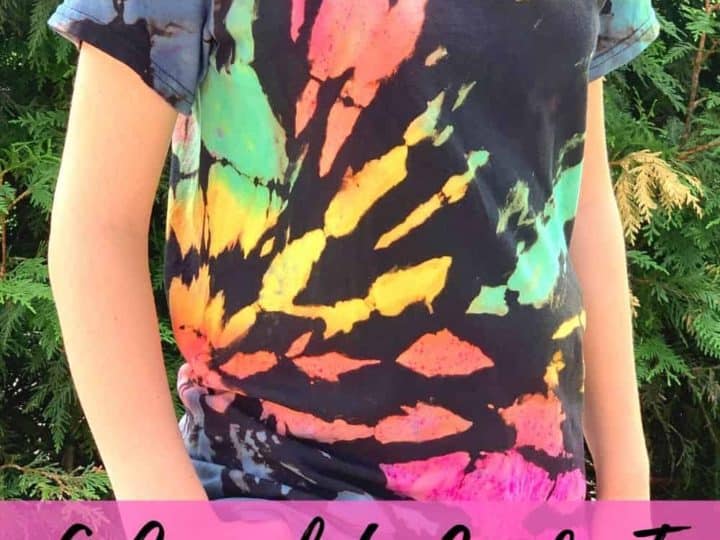 Techniques to Make Your Design Stand Out
Adding a unique design to your clothing can make you stand out in a crowd. With the right techniques and materials, you can create stunning designs that will show off your style and personality. Here are some tips for making your design stand out:
1. Use bright colors: Bright colors will draw attention to your design and make it stand out more. You can even use complementary colors to create an eye-catching contrast.
2. Use unique materials: Try using unusual materials, such as metallic thread or sequins, to add texture and interest to your design.
3. Add details: Adding small details, like embroidery or applique, can make your design look more professional and polished.
4. Choose an interesting pattern: Patterns can help emphasize the shape of a garment and add visual interest to the overall look of the garment. Try experimenting with different patterns until you find one that complements your design perfectly!
5. Consider texture: Texture adds depth and dimension to a garment, so don't be afraid to experiment with different fabrics or textures when creating your design!
Following these tips will help ensure that your design stands out from the crowd! With these techniques at hand, you'll be able to create beautiful designs that you can wear with pride!
Essential Safety Considerations When Working with Dyes
Tie-dyeing is a fun and creative way to express yourself through fashion, but it's important to take safety precautions when working with dyes. Dyes, including those used for tie-dyeing, can contain caustic agents that can be damaging to fabric and skin. It is essential to use safety equipment such as dust masks and gloves when handling dye powders. Additionally, make sure to work in a well-ventilated space and avoid inhaling any dust or powders.
When mixing dyes, be sure to use fewer beakers of dye and more pipets instead. Too many beakers take too long to clean up between classes. If using bleaching agents like chlorine bleach or color remover, wear gloves as these products can damage fabric too.
When preparing the dye mixture with soda ash, it is crucial to wear an approved dust mask so you don't inhale the powder or chemical dust. This mixture can usually be reused multiple times if stored properly but always wear gloves when handling it as soda ash may irritate your skin.
Remember that even though tie-dyeing is a great way to create unique pieces of clothing and art, it's essential to take safety precautions first in order to protect yourself from any potential harm!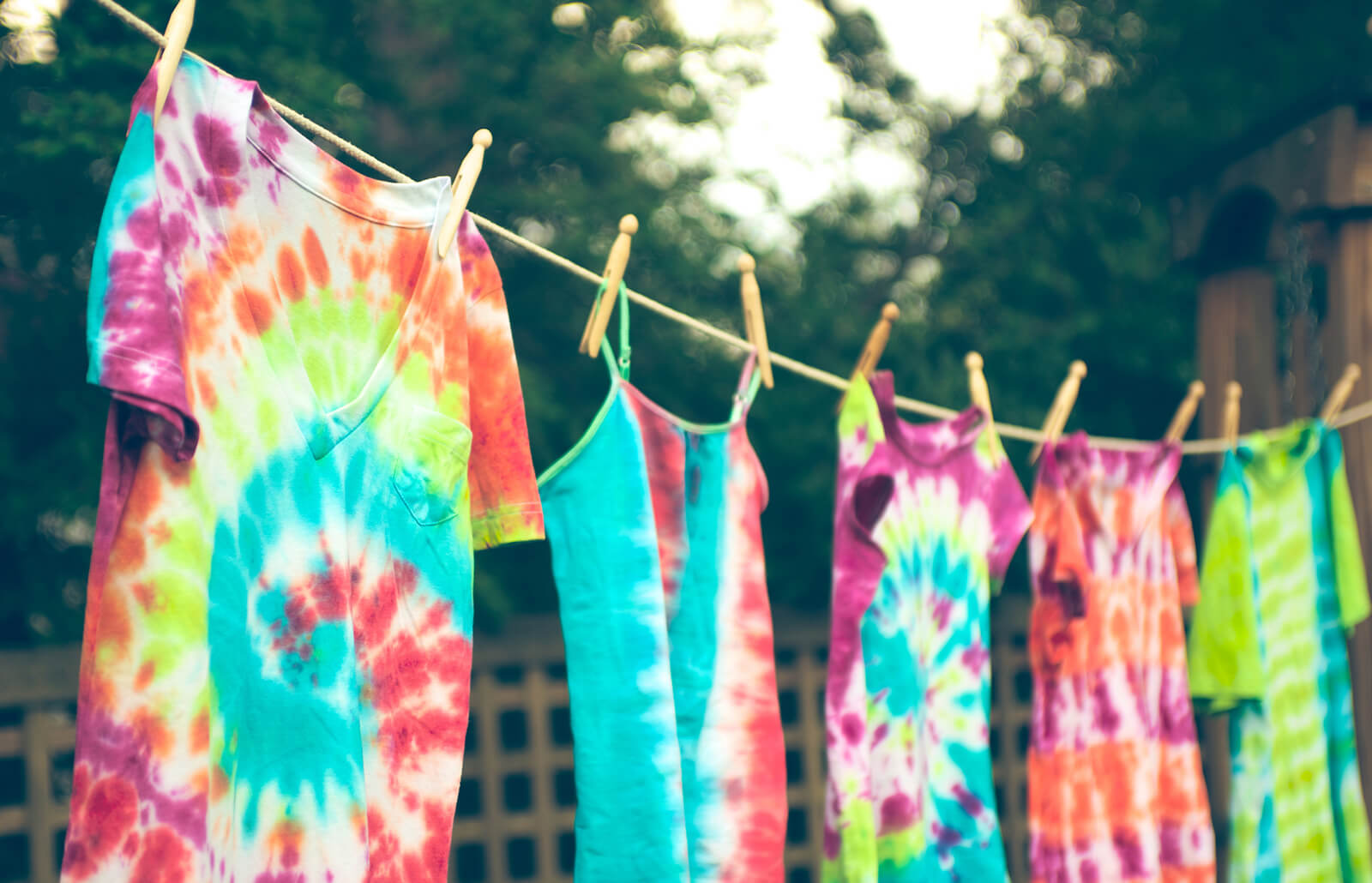 Cleaning and Caring for Your Tie Dyed Shirts
Cleaning and caring for your tie dyed shirts is important to preserve the vibrant colors and unique design. To keep your tie-dye looking its best, start with a cold water rinse after removing it from the plastic bag. This will help to remove any excess dye that may have settled on the fabric. After this initial rinse, you can then either machine wash or hand wash your garment. For machine washing, use a gentle cycle with cold water and a mild detergent. If you choose to hand wash, soak your item in cold water with a small amount of mild detergent for about 30 minutes before gently scrubbing it and rinsing thoroughly. When washing multiple tie-dyed items together, be sure to separate them by color. This will help prevent colors from bleeding into each other during the wash cycle. Once washing is complete, hang dry or tumble dry on low heat to avoid damaging the fabric or fading the colors of your shirt!

The Benefits of Using Professional Grade Fabric Paints and Dyes
Using professional grade fabric paints and dyes can provide numerous benefits compared to using regular, store-bought fabrics. Professional grade fabric paints and dyes are designed to be more vivid, with better colorfastness and durability than those found in your local store. Additionally, professional fabric paints and dyes are often non-toxic, making them safe for use on clothing and other materials.
Using professional grade fabric paint or dye can help you create unique designs that have a longer lasting color than regular dyes or paints. They can also help maintain the integrity of the material you're working with – preventing bleed through of the dye onto other fabrics or materials nearby. Professional grade fabric paints and dyes also tend to be more fade resistant, ensuring a longer lifespan for your designs.
When it comes to tie dying specifically, using a professional grade dye is recommended as they offer superior results in terms of vibrancy and longevity when compared to store bought products. For best results when tie dying with a professional grade dye, consider buying an all-inclusive kit which will help ensure you have all the necessary tools needed for optimal results.
Overall, using a professional grade fabric paint or dye offers numerous benefits over regular ones – from improved vibrancy in color to better resistance against fading and bleeding – making them ideal for creating unique designs on clothing or other textiles.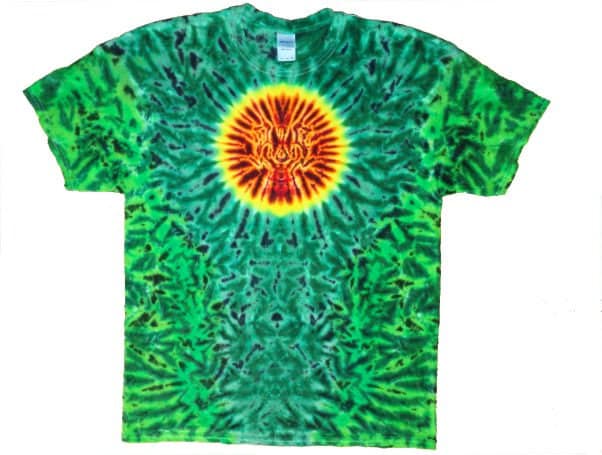 Creative Ways to Add Interest and Depth to Your Designs
Adding interest and depth to your designs can be an exciting way to make them stand out from the crowd. There are a variety of creative ways you can do this without having to be a master artist or designer. Here are some ideas for how to add interest and depth to your designs:
1) Use Color Gradients: Color gradients are an effective and eye-catching way to add interest and depth to your design. They look great when used in backgrounds, illustrations, logos, etc. You can choose from pre-defined color gradients or create your own custom gradient with color pickers.
2) Try Textures: Textures are also very useful for adding interest and depth to designs. Using subtle textures like woodgrain, linen, canvas, etc can give a design a more tactile feeling which will draw the viewer's eye in. You can find free textures online or use photos you've taken yourself for an even more unique look!
3) Create Depth with Shadows & Highlights: Shadows and highlights help create the illusion of three-dimensional space on a two-dimensional surface by adding shadows under objects or highlights around edges. This is especially useful when creating logo designs as it gives them extra dimensionality while still keeping them simple enough that they're recognizable from all angles.
4) Add Patterns & Stripes: Patterns are great for adding visual interest as well as texture to any design project – from websites to posters and everything in between! Stripes are another classic pattern that have been used for centuries but still look modern today when used correctly.
These four techniques should give you plenty of ideas on how you can add interest and depth to your designs without having to
Tips on Storing Unused Colors, Materials, and Supplies
Properly storing unused colors, materials, and supplies is an essential part of any tie-dyeing project. It will help ensure your supplies last longer, reduce waste, and make it easier to find the items you need when you're ready to dye. Here are some tips on how to store unused colors, materials, and supplies:
1. Wash all materials before storing them. This will remove any excess dye or dust that may have accumulated during the dyeing process.
2. Store all colors in airtight containers or bags so that they don't evaporate or become contaminated with other substances over time.
3. Label each color container with its color name and/or code so that you can easily identify it when you need it again.
4. Keep all of your dyes away from direct sunlight as this can cause them to fade over time.
5. Store extra material such as rubber bands and plastic bags in a dry place so they don't get wet or dirty while not in use.
6. Place everything back into its original packaging after each use to keep it neat and organized for future use
Common Mistakes To Avoid When Working with Colored Fabrics
Working with colored fabrics can be a tricky task, especially if it's your first time. To ensure that your tie-dye projects turn out the way you want, it is important to know and avoid some common mistakes.
First and foremost, when working with colored fabrics make sure the fabric is 100% cotton. Dye will only color the threads which are actually made from cotton, so using any other type of fabric may not allow for optimal results.
It is also important to use enough dye for your project. Too little dye can lead to muted or muddy colors post-washing; while too much can leave you with an overly saturated hue that won't look as vibrant as you had hoped for.
If you are looking to achieve specific colors, make sure that you familiarize yourself with the color wheel and which colors should not be put side by side in order to avoid muddled shades when they mix together. Colors like red and green should be avoided when placing them next to each other as they will create a brownish tone once mixed together.
Finally, do not forget to protect your work area when using dyes and chemicals as this is an integral part of tie-dying fabrics safely. Make sure that buckets full of dye are not used and dipping the fabric into the dye should also be avoided as this could lead to an uneven distribution of colors on the shirt/fabric..
Overall, following these tips will help ensure that all your tie-dye projects turn out exactly how you had imagined!
Alternatives To Traditional Tie-Dyed Designs
Tie-dyeing is a fun and creative way to express yourself with color. Whether you're a beginner or an expert, there are plenty of alternatives to traditional tie-dye designs that you can try. From reverse tie dye to natural dyes, the possibilities are endless.
Reverse tie dye is a unique twist on the classic look. Instead of adding color to the fabric, bleach is used to remove it. This technique creates exciting patterns and gives clothing an interesting distressed look.
If you're feeling adventurous, why not explore natural dyes? Common household items such as curry powder, beets, red cabbage and turmeric can create vibrant colors on fabric without any harsh chemicals or artificial dyes. For best results, choose fabrics made from 100% cotton or a 50/50 cotton/polyester blend.
Tie-dying isn't just for t-shirts either! You can use the same techniques on socks, sweatshirts, and even shoes! And because it uses existing materials instead of creating new ones, it's also an eco-friendly fashion choice. So don't be afraid to try out some alternative tie-dyed designs—you never know what kind of beautiful creations you might make!
Conclusion
Tie-dyeing is a fun and creative way to express yourself. It is a great way to show off your personality and make a statement. With the right supplies and techniques, it is possible to tie-dye colored shirts for unique results. The color of the shirt will influence how well the dye will be absorbed by the fabric, but with some experimentation, you can achieve vibrant designs. Bleach can also be used on darker fabrics for a unique design effect. Tie-dying is still very much in fashion and it's easy to spot someone wearing a tie-dyed kurta or t-shirt with an interesting pattern. Whether you're creating something for yourself or someone else, tie-dying can be an enjoyable activity that yields impressive results!
ANY CONFUSION JUST ASK HERE