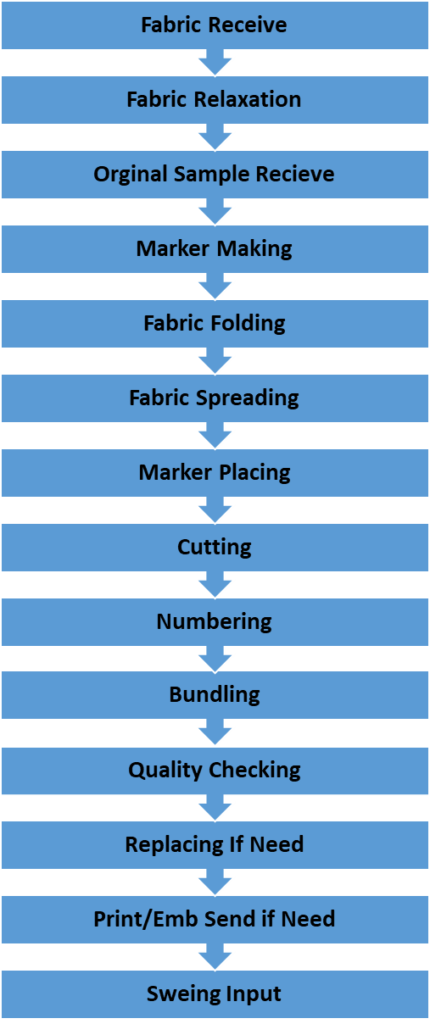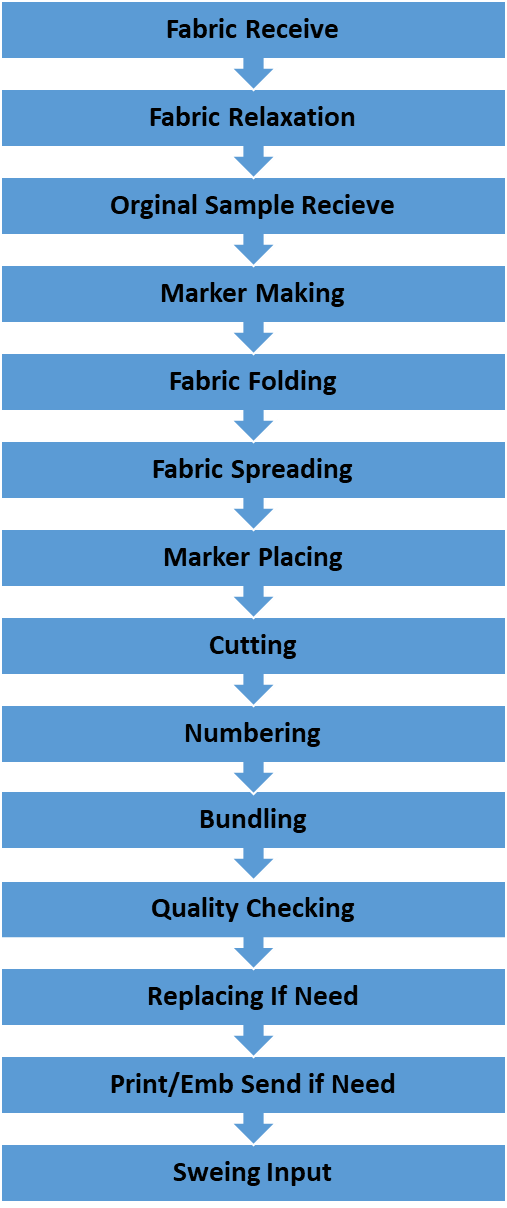 Working Procedure Flow Chart In Cutting Section is so important for better efficiency and quality cutting. The standard working procedure is given below step by step.
Fabric receive
Fabric relaxation
Original sample receive
Marker Making
Fabric folding
Fabric spreading
Marker Placing
Cutting
Numbering
Bundling
Quality checking
Replacing if need
Send to print or embroidery if need
Sewing input
Shrot descripting of different steps of Working Procedure Flow Chart In Cutting Section
Fabric receives: Normally fabric comes from the dyeing finishing section. It should be more careful to receive the fabric according to the requirement
Fabric relaxation: It is so important for cutting a section of the garments industry. It is needed for the better shrinkage and spirality of the fabric. The fabric relaxation time is not the same for all types of fabric. The fabric which has a chance to shrink more then it needs more time for relaxation. Normally Viscose or loose-knit or lycra fabric has a chance to shrink more so that it needs more time to relax. The approximate time of viscose or loose-knit fabric or lycra fabric is about 24hours to 48 hours. For other normal fabrics, 12 hours is enough for relaxation.
Original sample receives: To cut the fabric accurately it needs the original sample and its cutting history if it has been done before. some points must have to do
Shading Check
2.Dia Check
3. GSM Check
Marker Making: Needs to make a marker for cutting. It depends on the design and consumption of the garments.
Fabric folding: Needs to fold the fabric in the correct order and folder.
Fabric spreading: It is so important section snd it needs some extra process. Some work needs to be done for belief. Some important points should be done are—
Marker Checking
Roll Wise Shade Checking
Dia Checking
Marker Placing: Place the marker according to the planning of cutting. And it should be placed according to the allowance of the fabric.
Cutting: Now it is time to cut the fabric. Some important faults that should be considered before starting cutting are stated below;
Hole  
Oil spot
Crease mark Etc
Numbering: After cutting pieces needs to number according to the shade and quality of the cut pieces.
Bundling: Bundling Card-Ready before Bundling
Quality checking: All types of quality are checked here before delivery to sewing.
Replacing if need:
Send to print or embroidery if need: Cut pieces need to send to the embroidery or print department if it has print or embroidery in its style requirements.
Sewing input: THe final step is to send the pieces to the sewing section to start sewing.
Conclusion:
The flow chart of the working procedure of the cutting section is a 100% applied chart. Some reported factory is already following this procedure.
You can read some other articles:
ANY CONFUSION JUST ASK HERE