Are you looking for a way to give your wardrobe a fun, vibrant upgrade? Have you ever wanted to know if it's possible to re-dye a shirt or other piece of clothing? If so, this blog post is for you! We'll take a look at the steps and materials necessary to successfully re-dye your clothes and create some amazing new looks.
What You Need
Tie-dyeing is a fun and creative way to make unique apparel. To start your tie-dye project, you'll need the following items:
• White t-shirt
• Clothing dyes
• Bottles with drip nozzles
• Rubber bands
• Plastic sheeting or garbage bags
• Rubber gloves
• Squeeze bottles for dye
• Procion dye (optional)
First, fold or crumple the fabric and tie it with string or rubber bands. Next, dip the fabric in buckets of dye or apply the dye with squeeze bottles. Finally, wrap the dyed fabric in plastic sheeting or garbage bags and let it sit for 8 to 10 hours before rinsing out. With this technique, you can create one-of-a-kind designs that will last for years to come!
Washing the Shirt
Washing tie-dyed items correctly is essential to make sure your garments stay vibrant and last. Here's how to properly wash your tie-dye shirt:
1. Place the shirt in the washing machine, either alone or with other similarly colored tie-dyed items. Make sure not to overcrowd the washer.
2. Use a dye setting tool such as Retayne, a color fixative that helps prevent dyes from running or fading when washed in cold water.
3. Wash your tie-dye shirt in cold water with a mild detergent and no fabric softener nor dryer sheet for the first time.
4. Rinse the shirt immediately after the dye soak ends to remove any loose dye from the fabric before washing it again.
5. Wash again on a gentle cycle with like colors, using lukewarm water and mild detergent (no bleach).
6. Hang dry or tumble dry low heat until completely dry before wearing it again!
Prepping the Shirt for Dyeing
When you are getting ready to tie dye a shirt, it is important to properly prepare the fabric. The best way to do this is by washing the fabric with a bit of detergent and nothing else (no fabric softener or dryer sheets). After washing, lay the shirt flat and scrunch it together into a tight disk. Wrap several rubber bands around it in different directions so that when you dye the shirt, each section will be dyed differently. Finally, soak the shirt in warm water and soda ash solution for about 10 minutes to help the Procion dyes bond with the fabric. Prepping your shirt properly for tie dyeing is an essential step that should not be skipped!
Preparing the Dye
Preparing the dye is an important step in the tie-dyeing process. Before starting, it's important to make sure that your workspace is ready for a messy event. Cover tables with plastic and have plenty of paper towels handy. You will need to mix the dye powder with Urea water or plain warm water and measure out by the cup, as needed in small batches. It's recommended that anything you're planning to dye be washed first with a bit of detergent and nothing else (no fabric softener nor dryer sheet). Once done, it's important to soak your garment in warm water to get the fibers ready to take in the dye. This will help ensure that your tie-dye turns out vibrant and lasting!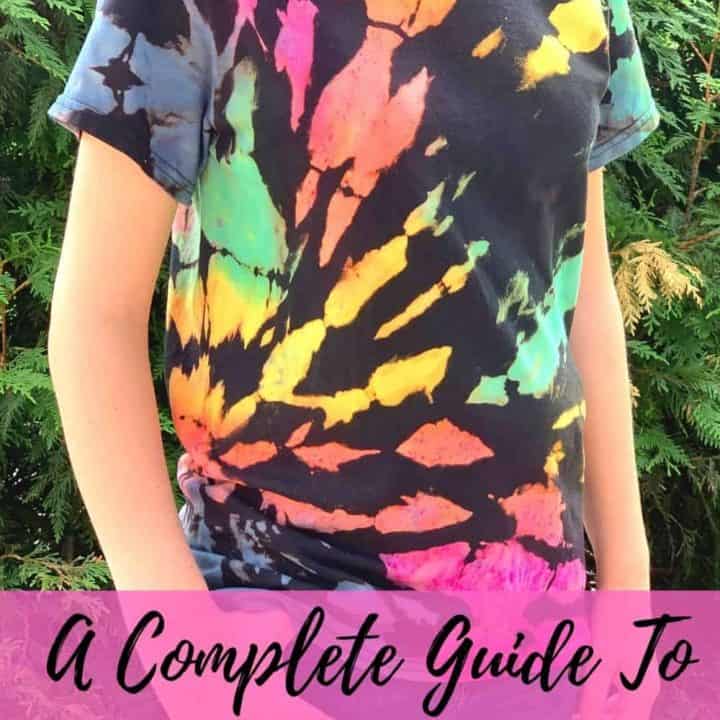 Applying the Dye
Applying dye to fabrics is a great way to add some extra colour and life to your wardrobe. Tie-dyeing is a fun and creative way to express yourself and make unique items of clothing. Here are some tips on how to apply dye the right way.
Firstly, it's important that you use the right type of dye for the type of fabric you are using. There are two main types of dyes used in tie-dyeing: fiber-reactive dyes or all-purpose dyes. Fiber-reactive dyes provide brighter colours that won't fade in the wash, so if you want your clothes to look vibrant for longer, then go for this option.
Secondly, when applying the dye always ensure both sides of the fabric have been covered evenly. You can use brushes, sponges or squirt bottles for this process – whatever works best for you! When finished leave the fabric in a sunny spot so that it can set properly – with time being anywhere between 1 – 12 hours depending on how saturated you want your colours to be.
Finally, when finished tie-dyeing make sure to wrap up your dyed fabric tightly in plastic wrap or bag until ready to wear or wash it according to instructions on the label. This will help keep the colours looking bright and vivid! With these simple steps, you'll be able to produce amazing tie-dye designs every time!
Adding Additional Colors and Design Elements
Tie-dyeing is a great way to create vibrant and unique designs for t-shirts, bags and other fabric items. With some patience and creativity, you can craft one of a kind pieces that stand out. To take your designs up a notch, consider adding additional colors and design elements.
The first step is to choose the right type of fabric for tie-dyeing. Natural fibers like cotton or rayon work best as they absorb dye easily. If you're looking for more vibrant or intricate designs, Printify offers a wide range of pre-dyed tie-dye shirts with bright colors that won't run when washed.
When adding color to existing tie-dye designs, you have two options: direct dyeing with light and pastel shades or using food coloring to create unique hues. Direct dyes can be applied directly onto the fabric without any preparation while food coloring can be used to mix different colors together in order to make custom shades. Additionally, you can use stencils and other tools to create intricate patterns along with your customized colors.
Finally, keep in mind that natural fibers are best suited for tie-dye projects so if you're not able to find 100% natural fabrics try finding items that contain 90% cotton and 10% polyester or lycra blend instead. With these tips in mind, you'll be able to add additional colors and design elements easily!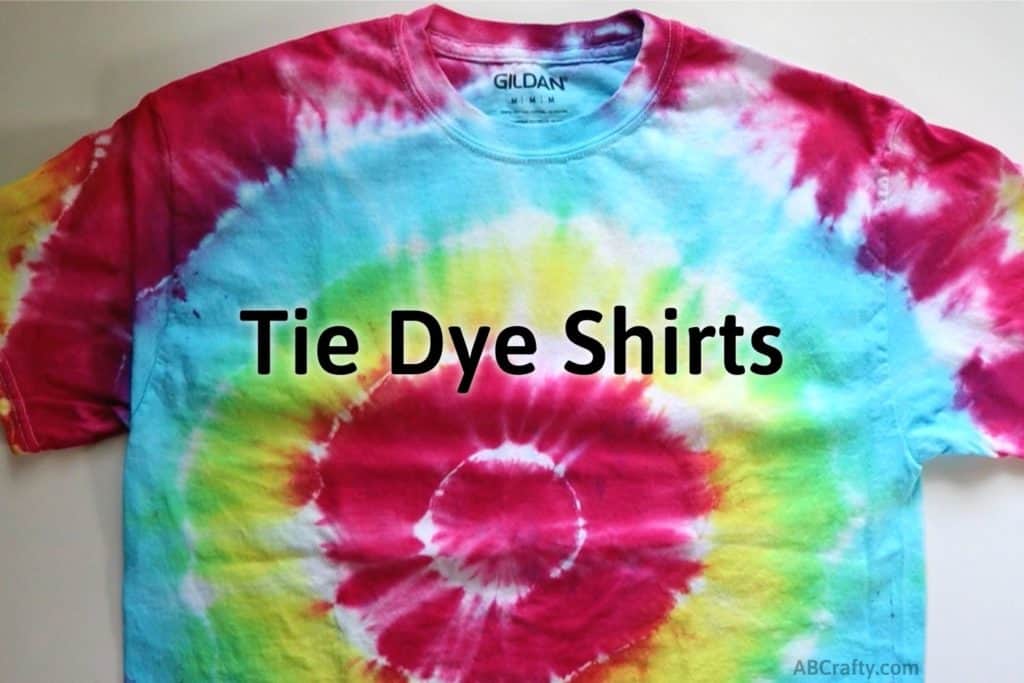 Folding and Wrapping the Shirt for Dying
Folding and wrapping the shirt for dying is an important step in creating beautiful tie-dye patterns. It's easy to do and can create stunning results! Here's how to fold and wrap a t-shirt for a successful tie-dye project:
First, decide what pattern you want to achieve. Popular patterns include spiral, bullseye, stripes, and chevron designs. Then start folding the shirt in the desired shape. Secure the folds with rubber bands or string.
For spiral designs, fold the shirt like an accordion until it is bundled up tight then wrap 4-8 rubber bands around the shirt in parallel rows. This will create your desired spiral pattern when dyed. To create stripes, tightly roll up your fabric in one direction before adding elastic bands at regular intervals along its length. Roll it back up with each stripe taking turns from the previous one. Secure this rolled fabric with elastic bands as well.
Once you are satisfied with your folding technique you can apply dye solution using squeeze bottles, paintbrushes or sponges depending on what type of design you intend to achieve. And that's it! You are now ready to dye your t-shirt into a unique piece of art!
Setting the Dye in the Shirt
Setting the dye in your shirt is an important step when creating a unique tie-dye design. The process of setting the dye in the fabric can vary depending on the type of dye and fabric you are using, but it's generally quite easy and straightforward.
First, make sure that you have allowed enough time for the dyes to set into the fabric. Depending on how vibrant you want your colors to be, this can range from 8 hours to overnight.
Once you have let your dyed fabric sit for long enough, it's important to create a setting solution for it. This can be done by filling a bucket or large glass bowl with cold water and adding 1-2 cups of vinegar and a generous sprinkle of salt (either sea salt or table salt). Soak your tie-dyed items in this solution for 15 minutes before washing them with mild detergent as normal.
It is also recommended to let your dyed shirt sit in a warm room for 24 hours after washing it – this helps ensure that all of the dye has been fully set into the fabric. Finally, make sure that during this time the shirt stays moist, either by spritzing it with water or by keeping it covered with damp cloths.
With these steps in mind, setting dye in shirts should be quick and easy!
Rinsing and Washing Out Excess Dye
Rinsing and washing out excess dye is an essential step in caring for tie-dye clothing. After tie-dying, it is important to rinse the garment in cold or cool water until no more excess dye comes off. Once this has been done, it is recommended that you soak the item in a bucket with a gallon of water and 1-2 cups of vinegar for best results. Then, rinse the garment under cold water again to remove any loose dye. Afterwards, it is suggested to let the tie-dye sit in a hot water bath for a few minutes before rinsing out and wringing out the fabric. Finally, wash the garment in cold water using Blue Dawn dish soap to pull away any remaining excess dye from the fabric before hanging it up to dry. Following these steps will ensure your tie-dye shirt stays looking vibrant and beautiful!
Heat Setting The Colors of The Shirt
Heat setting the colors of a tie-dye shirt is an important step to ensure that the dyes remain vibrant and do not bleed. Heat setting uses a combination of heat, water, vinegar, and salt to set the dye and prevent it from fading or running. To begin heat setting your tie-dye shirt, first make sure that you have completely finished dyeing the fabric and that it has been left to sit for at least 8 hours. After this time has passed, submerge your fabric in a mixture of one part vinegar and two parts warm water with ¼ cup of salt dissolved in it. Allow the fabric to soak for 10–15 minutes before taking it out and squeezing out any excess liquid. Next, place the dyed fabric on an ironing board or other flat surface and lightly press with a warm iron for about 1–2 minutes until all areas are covered. Finally turn off the iron and let the fabric cool down before rinsing it in cold water until all soap residue is gone. Follow these steps correctly to properly heat set your tie-dye shirt!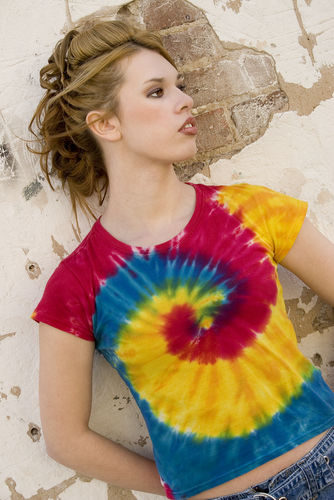 Hanging and Air Drying The Shirt
Hanging and air drying your tie-dye shirt is the best way to ensure that your colors stay vibrant and don't fade over time. After steeping the shirt in dye, it should first be rinsed and soaked in a vinegar-and-water solution. Then, hang it up to air dry away from direct sunlight or heat sources, as this can damage the dye. Leave the fabric tied up and undisturbed for 2-24 hours during this process for best results. Once done drying, machine wash the shirt by itself on a delicate cycle without detergent to set the colors permanently and avoid fading. Hang up again to air dry after washing for optimal results!
Storing Your Newly Dyed Shirt
Storing your newly dyed tie-dye shirt is an important step in ensuring that the colors stay bright and vibrant. To ensure that you get the best results, make sure to let your shirt sit for at least 8 hours before rinsing. Do not rinse with other clothing, since this can cause excess dye to stain the other clothes. When you're ready to wash, put it in the washing machine by itself or with other similarly colored tie-dyed shirts. Place your new garment in a zip-top plastic bag and leave it to set for at least 8 hours; soaking it for longer will give better results. After 8 hours have passed, carefully remove the shirt from the bag and rinse off any excess dye with cold water. Finally, wash your shirt on its own or with similar colors in a washing machine using Synthrapol detergent or another laundry detergent designed for tie-dye fabrics. By following these steps correctly, you can be sure that your shirt will look as vibrant and beautiful as when you first dyed it!
Tips To Get Professional Looking Tie Dyed Shirts
Are you looking to create a unique and stylish look with your wardrobe? Tie dyeing is the perfect way to customize your clothes while giving them a unique and eye-catching design. Here are some tips on how to achieve professional looking tie dyed shirts that will last for years.
1. Start with quality materials: For the best results, use 100% cotton shirts as they absorb dye the best. Avoid fabrics such as polyester or spandex as they won't give you the desired outcome.
2. Pre-wash your shirt: Before you begin tie-dyeing, make sure to pre-wash your shirt in cold water with mild detergent so it is free of dirt and oils that can affect the dye absorption.
3. Prepare for dying: To prepare for dying, twist or scrunch up sections of the shirt and secure them together with rubber bands at least 1/2 inch thick so they do not come undone during the process. This will help create interesting patterns in your finished product!
4. Mix dye correctly: Make sure you mix your dyes according to instructions provided by the manufacturer for accurate results every time. Generally, this consists of mixing one part powdered dye with four parts warm water until dissolved completely before applying it onto fabric using a spray bottle or sponge brush technique depending on what type of design you are aiming for.
5. Rinse thoroughly: After applying all dyes onto fabric, rinse them under cold running water until all excess dye is removed from fabric and then wash gently in warm water using mild detergent before wearing it proudly!
Troubleshooting Common Problems With Tie Dying
Tie-dyeing is a great way to add unique designs and vibrant colors to your wardrobe. However, sometimes things don't turn out quite as planned when tie-dyeing, so it's important to know how to troubleshoot common problems.
First, make sure the fabric you are dyeing is made of natural materials such as cotton, hemp, rayon, silk or jute. Synthetic fabrics will not dye properly and may cause uneven results.
Second, make sure you plan your project in advance and manage the dyestuff and auxiliary correctly. Additionally, keep an eye on the process conditions and operations during the dyeing process.
Thirdly, make sure you rinse your item until very little color comes off when squeezing out the water then remove the rubber bands from the garment after soaking it in soda ash solution for several minutes. For light pastel shirts, you can tie dye directly over the existing colors but be aware that this method will yield lighter results than if you were starting with a white shirt.
Finally, once you've finished dying your garment be sure to thoroughly wring out all of the liquid before drying it in order for maximum saturation of color and vibrancy of design. With these tips in mind, you should be able to create fabulous tie-dyed garments!
Conclusion
Conclusion
Tie-dyeing is an art form that has been around for centuries and is still a popular method of creating unique, colorful clothing and fabric designs. The process is relatively simple, but requires some preparation and some practice to get the desired results. Tie-dyeing can be used on both natural fabrics like cotton and synthetic fabrics like polyester, although the latter may result in a slightly muted color compared to natural fibers. With the right materials, patience, and skill you can create stunning tie-dye pieces that are sure to turn heads!
You may read the article:
ANY CONFUSION JUST ASK HERE