Often it is hard to find the perfect beginners' knitting kit while looking at the market. And the additional complexity is that if the quality comes well or not. But don't worry, there are still a lot of options that hold the utmost facilities and convenience as well. Here we will clarify the Complete knitting kit for beginners, the use this, and where to use it.
Now, you may be thinking about how to use the kit and what to do at first. For this reason, I am going to give you the back of supreme suggestions on your initial steps and guidance. 
Especially the cast-on, cast-off, and knitting objects are the most important things to transpire on. But that is not enough. There is still more to know. In that regard, give an eye to my article. 
Basic Skills of Home step by step with the below topic
One of the most important things that all beginners must know is the basic skills of knitting. If you don't grab them then your whole process may go bland. For this reason, I am here to showcase some of the basic skills. 
How to cast on
When it is about to be cast on, you will require a needle for that. Then you will have to catch the yarn which is working on your index finger. Now use your thumb to pull the yarn by your loop. After you are done, release the loop from your thumb. Again, with the palm of your hands, you have to keep the yarn ends entirely secured. Then insert your needle upward by the loop on your thumb. Now tighten a new stitch after repositioning the thumb on the right-hand needle. Keep repeating the steps until you are done casting by the required number of stitches.
How to cast off
By casting off knitting, you can keep your stitches away from unraveling while removing them from the needle. It will be better if you knit two stitches at the same time. Then insert the left needle where your first stitch is. Lift that stitch above the first stitch and lift again over the second stitch of the needle.
You will need to continue the stitching in such a manner that the stitches are cast off completely. Then cut your working yarn and leave a six-inch-long tail. Pull that tail by your last stitch so that it secures perfectly. Now take a yarn needle and weave the ends of the yarn tail. Make sure you are picking up only the surface loops at the back of multiple stitches.
How to knit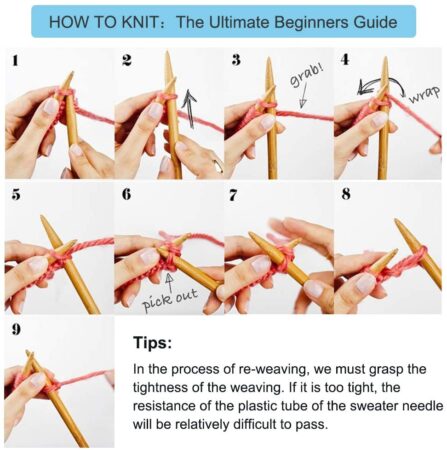 In this step, you will need to catch a working yarn by using your right needle. Make an open stitch and pull the yarn with that. Hold your middle finger by slipping the cast on the stitch on your left needle. Do the slip against the second stitch of cast-on. You will see a new knit stitch formed after stitching on your right needle. Keep knitting all around the cast in a row. Then remove the last stitches of your left needle by completing the row. All you need is to exchange the needles and return the needles by stitching them with your left hand.
How to purl
Usually, purl knitting differs in two fundamental ways. In front, the working yarn is held instead of the back. Here, you will need to insert the needle from the back to the front rather than doing it from the front to the back. Then hold the needle in your left hand with your cast-on stitches. Now take the ball end and wrap that working yarn smoothly. And don't forget to use your left index finger for that. After you stitch on the right needle, you will see a new purl stitch has been formed. That reverse side will look like a V.
How to sew up the knit scarf
In this step, you will need cast-on stitches in a range of 12. Knit every row and every stitch with a garter stitch until you get the yard of your left yarn on your desired length. Then bind off the stitches and you are all set to flaunt your beautiful handmade scarf.
Skeins of merino yarn
To knit with skeins of merino yarn, you will require a washed cloth. This is a basic way to use a part of the simple yarn. Also, this object gives a nice warmth without being hot. And its moisture-wicking properties keep the garment in a smooth texture of touch. With this yarn, you can knit shawls, scarves, sweaters, and other baby garments. You just need to pick the ends of the yarn through your fingers a few times. Then lose your fingers and slip off the yarns by wrapping them all around. In this way, you will create a nice ball but don't wind it too tight. 
Instructional blanket
To create an instructional blanket you will need to create a foundation row. For this, you will need to hold two strands of stitches together where you will get the first color cast. Here, you will need to turn the work and knit the rows sequentially.
What to Look for in a beginners knitting kit to buy:
When you will be buying a knitting kit, you see it comes with all the equipped items and other things you need. Such as skeins of yarn, pair of needles, and a pattern to get started. Moreover, some kits come with additional notions like- tapestry needles, stitch markers, scissors, project tote bags, and so on. 
But it is very important that you look into the quality of yarns, needles, clear instructions, and easily follow patterns. Some kits feature the works of beginners, intermediate, and advanced knitters. Hence, the important notice is that you should consider the facility of usage, and accessories if they are handy or not. 
Now coming to the budget, the cheapest choice you can have is plastic or aluminum kits. But they are a little bit slippery and hard to manage sometimes. Rather, it will be better if you invest in wooden or bamboo needles. These kinds of kits would be beneficial for beginners or first triers.
Beginners can knit easily 
One of the most troublesome matters for beginners is to judge what things can be best at their first stage of knitting. Considering that, I am going to tell you what things you can knit easily as a beginner. 
Slippers
On the chilliest winter nights, knit slippers are a great alternative to knit. If you are thinking that knitting slippers are way hard then you are completely wrong. Once you give it a try by knowing the basic skills, knitting slippers will be nothing to you but a cakewalk. 
Sweater
For most beginners, knitting sweaters can seem like a daunting project. On that note, the perfect solution for you will be to learn the basic patterns. And after that knitting sweaters can become a simple task for you. Moreover, knitted sweaters can be a beautiful gift for children, teens, and even elders as well in the coldest winter.
Mittens
You can easily knit mittens with purl and knit stitches by creating a ribbing. Also, making a cuff here is incredibly easy. You just have to knit all around and give the decreasing shape a good texture. Do you want to branch out your knitting skills? Then mittens can give you a hand on hand. However, many beginners don't find it the best way to commence. But trust me, mittens are one of the easiest things that you can start with.
Slouchy Beanie
Beginners can knit slouchy beanies as a choice of comfort and style. You can look for different patterns and knit easily for both men and women. For some amazing ideas, I will suggest you knit some Kamis, skyping beanies, or ribbed slouchy beanies. 
Baby accessories 
What can be better than knitting beautiful booties for babies? If your baby is from 0 to 3 months then you can make adorable small booties for him/her. This kind of accessory has nice stretching power and will last longer. Again, for embellishing your kids, a simple knit baby hat can also be a preferable option for you. In Particular, the one skein baby hat will look very cute on your baby.
Blanket
As a beginner, you can try out chunky knit baby blankets. It is a lot easier than any other knitting option. Here, you will require big needles and super chunky yarns. For a medium-sized blanket, you can give a cast of 120 stitches. Or if you want a large blanket then 160 stitches will be sufficient for them.
Homespun Home
Homespun home is another excellent subject to showcase the talent of your knitting skills more easily. Also, these homespuns will look great on your hands. So, make sure you knit it with authentic textures and efficient knits. This can be simpler work for you by knowing the basic terms at glance.
Children's Toys
There are a lot of children's toys that look commendable only after nice knitting. For example, you can make multiple-size toys of elephants, teddy bears, kangaroos, pandas, and many more. Nowadays, stuffed animals are also trending. And they are very much easy to knit if the basic skills are with you. So, don't worry about the experience level knitting and go with the flow with simple techniques. 
Scarf
You must have heard about the cozy ribbed scarf. It is very easy to make. You will just need a 2×2 rib stitch. It can be a wonderful gift to present to your family and friends. And don't worry about the fact that knitting scarves are a hard one. Have two skeins of yarn and you will see you are done knitting it smoothly and quickly. Or you can also give a try to garter stitch scarf as a perfect pattern of being a beginner. It needs only one kind of stitching and gives the practice of making fringe. 
Beginners have to know about
Many of us think that there are a lot of supplies that we need to start knitting. But that is not true. The list of supplies is very small. Here is a short list of what you will need during the knitting process. Let us see what they are.
Bamboo knitting needles 
As a beginner, you can try straight needles to knit on. Moreover, bamboo needles are preferable compared to metal ones. You will feel good in your hands while starting your process. Though longer needles are nowhere a bad option, they can still be fiddly for you. Also, the circular knitting needles can help to explore more on your skills more.
Knitting needles for beginners 
The prime thing that a beginner will need is a knitting needle set. Make sure you have one with fine quality itself. 
There are different types of knitting needles but very few of them are absolute to start with. Before moving to that point, we must clarify some important aspects. 
It is better to keep our costs down in the beginning. For that, classic straight or round knitting needles can be a perfect choice for you. But there is no wrong to invest in long-term knitting needle sets. 
The kits I am talking about are- Clover Takumi bamboo knitting needles and Boye Aluminium knitting needles. 
Knitting yarn for beginners 
For knitting, there are different types of yarn you will get at the local yarn shop (LYS). And if you never went to a local craft store then you must go right now and get authentic products from there. 
While buying yarn, look around it carefully, touch the yarn, and feel it by putting it against your skin. Hence, you will get a good start on sensing the colors too. After that, look at the yardage/meterage, and prices and then choose according to your budget.
Knitting Kit Bag
Knitting kits grow with time when you will be learning the process. And while buying a knitting kit bag, make sure it has a sufficient amount of pockets and storage. Talking about my experience, the IKEA zipper bag was perfect for my knitting notions and tools. This bag has a wide opening which keeps the inside content from scattering and falling. 
Knitting Gauge
Among all the supplies of knitting notions, the knitting gauge tool is an important one. You can check your stitches per inch with a knitting gauge swatch. Undoubtedly, it works like a multi-purpose tool.
A knitting gauge can help you to determine the needle size and make your knitting work easy. For a better choice, you can go for the Hiya-Hiya set or Chiagoo interchangeable set
Stitch Markers
As a beginner, you must have a healthy cache of multiple kinds of stitch markers as your knitting supplies. If you don't know how to use a stitch marker, have a look below.
Take a dropped stitch and hold it in place
Mark that part which conforms to be the beginning of the round in your knitting
Know the number of stitches in your needle
Appear the increase and decrease of your knitting pattern
Knitting Needle Point Protectors 
Yes, you are thinking right. Knitting needle point protectors are just what they look like. You can cover the points or tips of knitting needles by using them. Also, the problem of getting stabbed will not bother you at all.
These point protectors will not let your knitting piece slip off when they are in your knitting bag. Thus, the point of your needle will not damage and stay safe for a long time. And most importantly, these protectors will save the hard work that you will be doing on your knitting. 
Tape Measure
The tape measure is an important object to measure the complete length and width of any project. Make sure the tape measure you will buy extends the range of 5 feet. A retractable tape measure can be better than a fabric tape measure. Other than that, for a cast, you will need to measure yarn and a tape measure can help you with that. As a recommendation, I will tell you to check out from here.
Tapestry Needle
When it comes to weaving the yarn tails or knitting lifelines, tapestry needles are all that you need. They are available in metal and plastic with a straight or blunt tip. And the best thing is, when you will be choosing this tool, a fine assortment of tapestry needle sizes will appear to you. Hence you can pick the right one according to the weight of your yarn. But before that, consider the thinness and thickness of the product.
Scissors 
For cutting knots or snipping ends a pair of sharp scissors is very useful. Just make sure they are plain and simple. There are a lot of pretty gold bird scissors in a perfect range. You can give a check there also.
Knitting Row Counter
Knitting row counters are another essential tool to include in your supplies. Sometimes, we lose our count while knitting and the track as well. In that situation, a knitting row counter can help you to make the task easier for you. Most commonly, there are two types of knitting row counters available. One slide to the knitting needle and the other looks like a rainbow row counter ring. But, if you want to explore further variations, you should do more research on the knitting row counter.
Frequently Asked Question 
What is the best knitting kit for beginners?
Here are some of the best knitting kits for beginners with perfect range-
Best In Overall: Stitch Happy Knitting Starter Kit
Best Gift: Mindfulknits Knitting Kit
Best Lightweight Needles: Exquiss Needles Set
Best Needle Set: BCMRUN Knitting Near Set
Best Budget: 4M Easy to do Knitting Art Kit
What should a beginner knitter buy?
Some of the important things that a beginner knitter must buy are-
Needles (Circular Needles, Double-Point Needles)
Yarn
Scissors
Tapestry Needle
Stitch holders 
Measuring tape
Crochet hooks 
Row Counter
Swift and Winder
Sticky Notes and Washi Tape
Needle Gauge
Yarn Bobbins
Needle Caps
Yarn Threader
Wool Wash Kit
What is the easiest thing to knit for beginners?
As a beginner, you can go for some easy knitting tasks, like- 
Easy Katy Knit Cowl
Bitty Baby Booties
Garter Stitch Knit Bag
Easy Chunky Knit Baby Blanket
Simple Knit Baby Hat
Finger Knit Rope Trivet
Cozy Ribbed Scarf
Colorblock Knit Pillow
Knit Hedgehogs
Can you teach yourself knitting?
To teach yourself knitting, you must give yourself time to learn some simple techniques. Such as decreasing, increasing, purl stitch, knit stitch, casting on, and casting off. All these processes will take some errors and trials at first. But once you grab the knowledge regarding them, it will become easier for you to beautify patterns.
Conclusion 
Hopefully, you got your utmost solutions regarding the complete beginner knitting kit. It's no secret that most of us consider knitting rocket science. But it will be inevitable if you don't give it a try. And most importantly, until you learn the basic skills the knitting project will seem to you very hard.
But that puzzlement doesn't suit you. So why not step into the process and have the best knitting kit with you? Rather than contemplating more, you can knit beautiful sweaters, hats, scarves, and many more. Best of luck.
You may also read some other related articles:
You can find us on: