Holidays and traveling are adventurous things most of us, love! But still, they seem to be stressful at frequent times. For example- you need to be in a long queue and have different security checks before boarding the plane. Still, you can find a way to relieve your stress. To remove this stress, knitting with needles can help you more.
So, If you are a knitter or a crochet enthusiast, you may be wondering whether you can take your knitting needles on an airplane. With airline security measures becoming increasingly strict, it's essential to know what is allowed and what isn't. The answer to whether knitting needles are allowed on planes is not a simple yes or no. It depends on various factors such as the type of needles, the airline's policies, and the security checkpoint's rules. Thus, we need to know Are Knitting Needles Allowed On Planes? And a straightforward answer is yet to be obtained. In this article, we will explore the topic and provide you with essential information to help you travel with your knitting supplies hassle-free making your traveling stress free!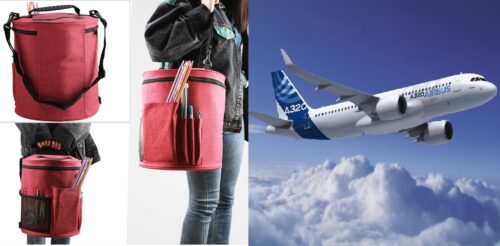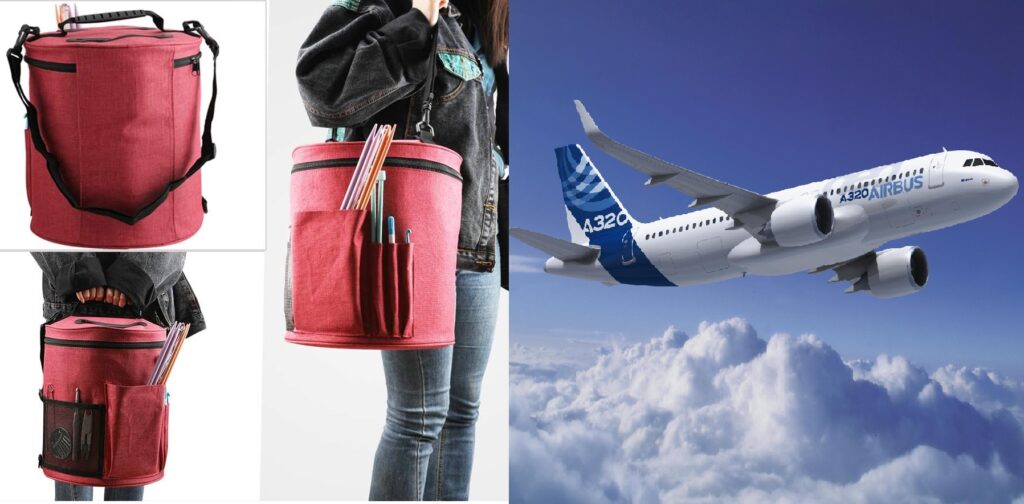 Are knitting needles allowed on planes in the USA and other countries?
Unless we get the exact and updated information, it becomes hard to figure out the traveling criteria on planes. And all counties indeed have their own rules for their Airlines. So, what's important in that regard is knowing the up-to-date regulations. Don't stress about that. Because I am going to help you out by revealing some important facts that you must know.
Some handy hints to avoid confusion
One thing we all hate is the ultimate delays. And that happens because of the worries and confusion that take place before we are going to board. To be clear on those terms let us give a check to some traits below.
Till now we got a whole record of the basics that are inevitable basics. Now let us look at those related countries.
United Kingdom
According to the UK government, anyone can carry knitting needles as part of their hand or hold luggage.
Bristol Airport- Going a few years back you will see the most stringent security policies in Bristol Airport. People were not allowed to carry hooks and needles there. But now the airport announces that passengers can carry their knitting needles in hand luggage. There is more available information about their rules in the link info for 2023 here.
Edinburgh Airport- You can see in many Twitter discussions that Edinburgh airport is letting travelers take crochet hooks. But still, the precise information is yet to get on their link. So, check here for the update 2023.
London Gatwick Airport- Considering the official policy of Gatwick, now everyone can take crochet hooks and knitting needles in the hold and hand luggage. Since there are a lot of records that security took away, don't forget to follow the handy hints.
London Stansted Airport- Yes, knitting needles are allowed here. But when you take craft scissors, make sure they are not more than 6 cm long. To check more, click here for updates 2023.
London Heathrow Airport- Allowed. To know the rules, click here for updates 2023.
London Luton Airport- This website says London Luton Airport restricts taking knitting needles. But this is now outdated. Though they are unavailable for a quote, they do comply with the UK guidelines. Hence, people can now carry knitting needles with them in that airport.
Manchester Airport- It is nowhere a problem to take knitting needles there. Just make sure you have wool with yourself so that security allows the process.
United States
The Transport Security Administration (TSA) officially states that passengers can take knitting needles and crochet hooks with them during their journey. A piece of checked or carry-on baggage is all that you need. To know more, click here for updates 2023. 
Now, they have this security system nationwide. So, do not avoid our tips, and keep in mind that the final decision is with the TSA on the plane.
Australia
The Australian government allows the public to take knitting needles and crochet hooks with them on their boarding. You can also carry umbrellas with metal points from their airports. This is a kind of discretion of the security screening officers. For this reason, we are recommending our handy hints so that you can avoid all undue stresses. Airports like- Melbourne, Sydney, Brisbane, and Perth fit finely with our theory from research.
Canada
The Canadian Air Transport Security Authority does not restrict the use of knitting needles and crochet hooks. For these, you can use both checked baggage and carry-on baggage. To know more about their policies, click here for updates 2023.
Ireland
Carrying knitting needles is a tricky situation for Ireland Airports. Such kinds of metallic things are completely restricted and forbidden to take in hand luggage. You see their government policy for 2023 here. However, Dublin airport does allow crochet hooks and knitting needles in terms of security. Click here for updates 2023. to see their tweet.
Shannon- knitting needles are not allowed. Know from here for 2023.
Cork- Yet there is no claim from Cork that passengers can take these materials or not. But after contacting security, they assure no prohibition of carrying knitting needles.
Some Specific Airlines
Here are some important policies that we all must know about some specific Airlines.
British Airways- Here, knitting needles are a world to take in checked baggage and hand baggage. Click here for the latest update 2023.
Aegean- knitting needles are not allowed on this airline. You can have a look here for the latest info on 2022.
KLM- You can't take knitting needles here as well. See their policies for 2023 here.
Easyjet- You may see on Facebook and Twitter that knitting needles are allowed to take on Easyjet Airlines. But that is not true. You can check it here for the last update 2023.
Jet 2- This airline restricts knitting needles. See here for a recent update in 2023.
Thomas Cook- As there is too precise information about their policy on the website, but we spoke to Thomas Cook. He clearly states that passengers are not allowed to take crochet hooks and knitting needles in their hand luggage when they will be flying with Thomas Cook. But, there is still the possibility of taking them in hold luggage.
Ryanair- Our customer service agents confirm that knitting needles are not allowed on Ryanair airlines.
Virgin Australia- Yes knitting needles are allowed here. Check out the confirmation here UPDATE 2023.
Virgin Atlantic- Our customer service confirms that we can take knitting needles in Virgin Atlantic by contacting their authority.
What you should not bring
One of the hardest situations is letting go of the pricey signature needles. So, it can be a risk if you bring them along with you on board. We all know about cashmere lace shawls. This can also be a threat to the security terms and may not allow you to take in your fly.
It is no secret that security agents work to confiscate dangerous items. And in that bundle, knitting needles come in pairs. So it is very important to negotiate with the airports where you can't take them with you.
Frequently Asked Question
Can you take knitting needles on American Airlines?
There will be no problem if you pack your knitting needle in your both checked baggage or carry-on. Hence, the best way will be to carry hand luggage and put your knitting needles there. Also, it is important to consider that your checking does not get jabbed. For that, all you need to do is wrap up the needles with any cloth or fabric. And the Airlines that are fine with knitting needles on planes are- JetBlue, America, Southwest, Delta, Frontier, and the United States.
Can you carry knitting needles on international flights?
One of the most controversial matters is if we can carry knitting needles on international flights or not. The answer is, yes. You can take your Crochet Hooks and Knitting Needles only if you have checked-in bags. So, make sure not to carry them in carry-on luggage. Till now, many of the knitters were shown losing their needles at the time of departing Mexico. But, that is not inevitable while flying the plane. So, try to knit your needles in at least one way.
Can I bring my knitting needles on the plane?
According to the Transportation Security Administration of the United States, you can carry stuff that is smaller than 4 inches. Such as scissors, needlepoint tools, and knitting needles. But you are only allowed to take them with you in carry-on luggage. Other than that, thread cutters and circular cutters which contain blades can't go without checking. Moreover, there is a thing to consider about these knitting needles. Try to take the wood, bamboo, and plastic needles. Even though metal needles are allowed, they may flag any agent in the travel.
Can you take knitting needles on a plane to Europe?
There is no doubt that we can carry knitting needles with us while traveling on a plane but in carry-on luggage. Also, there are a lot of flight regulations that are compulsory to follow. Coming to the carrying of knitting needle allowance, very few countries do so. They are the UK, USA, and Australia. Therefore, it is obvious that you can't take your knitting needles on a plane in Europe.
Final Thoughts
The security agents are not for ruining your day. They just do what they are instructed on. Hence, allowing you with knitting needles crossing their duty line is not in their hand. And knitting needles are a very conservative subject to take on a flight.
 But, one thing you should always keep in mind is, to be nice. And, before that, check out the policies of the airport from where you will be boarding. Let us know your thoughts by commenting below.
You May Also Read Some Other Articles:
You can find us on: