Fabric performance testing (FTP) is a process that is used to determine how well a fabric will perform under certain conditions. This type of testing can be used to evaluate the strength, durability, and other mechanical properties of a fabric. There are a number of different tests that can be performed, and the results of these tests can help you choose the right fabric for your application. This FTP is done with some international testing methods or standards.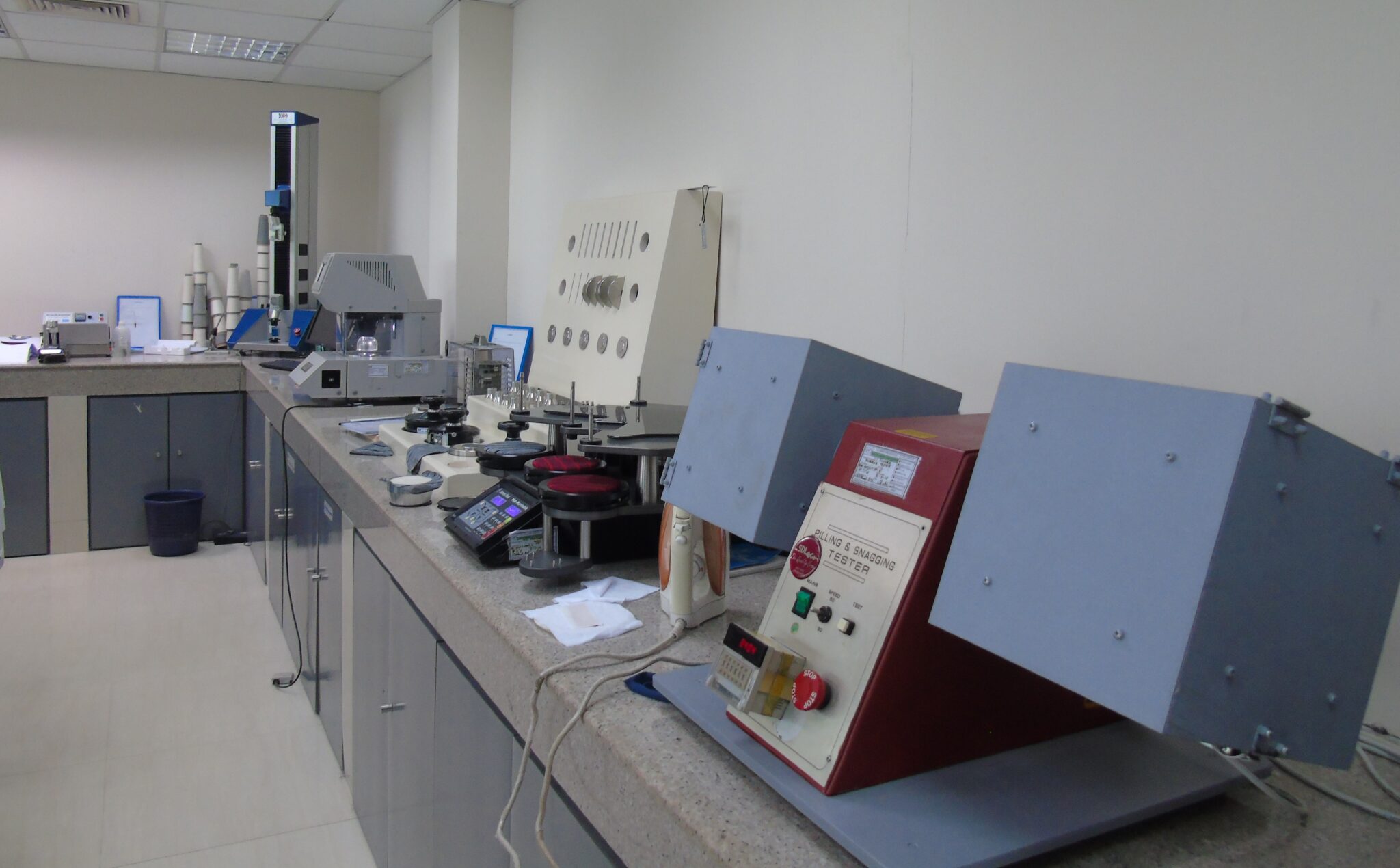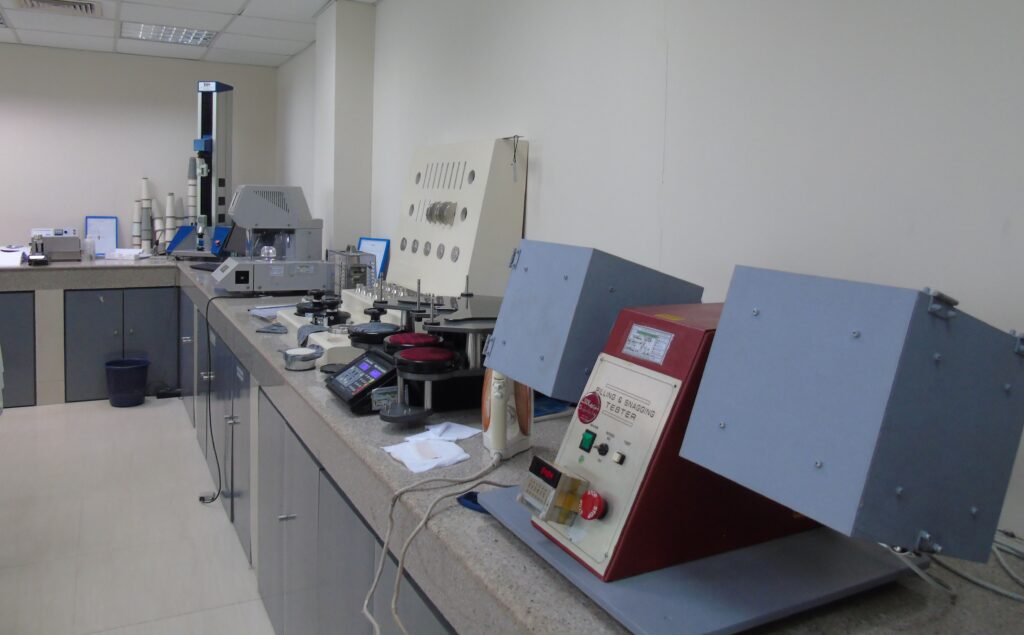 Types of fabric performance tests or mechanical fabric tests with their testing methods
Fabrics are made to withstand different types of wear and tear. There are a variety of tests that can be performed to determine how well a fabric will hold up. The most common tests with their testing methods are given below:
| | |
| --- | --- |
| Testing Items | Standard Test Method |
| 1. Tensile strength/Elongation at break | EN ISO 13934-2 ASTM D 5034 |
| 2. Tensile strength/Elongation at break | Strip Method EN ISO 13934-1 ISO 13934-1 ASTM D 5035 |
| 3.Tearing Strength         | Tongue (1)Single –rip EN ISO 13937-2 ISO 13937-2 ASTM D 2261 (2)Double-rip EN ISO 13937-4 ISO 13937-4 (3)Wing-Rip EN ISO 13937-3 ISO 13937-3 BS 4303 |
| 4. Seam properties | Woven BS 3320:1979 slippage ASTM D 1683-strength EN ISO 13935-2 strength ISO 13935-2 strength BS 3320:1990 slippage ASTM D 434: slippage Garment seam strength (per Garment) In house test method ASTM D 1683 Modified ISO 13935-2 Modified |
| 5. Bonding Strength of laminated fabric | ASTM D 2724 As received state |
| 6. Single thread Strength | ASTM D 2256 ISO 2062 |
| 7. Lea's strength | ASTM D 1578 |
| 8. Loop Strength | ASTM D2256 |
|   9. Thread per unit length (Woven fabric) |   ISO 7211/2 ASTM D 3775 |
| 10. Stitch density (Knitted Fabric) | BS 5441 ASTM D 3775 |
| 11. Counts of yarn /denier counts | Woven Fabric ASTM D 1059 ISO 7211/5 Knitted fabric ASTM D 1059 |
| 12. Yarn count | Skein Form ASTM D 1907 ISO 2060 |
| 13. Fabric Width | ISO 3932 ASTM D 3887 section 10            |
| 14. Fabric weight | ISO 3801 ASTM D 3776 BS 2471 EN 12127 |
| 15. Cover factor | In house/ As Buyer requirements |
| 16. Loop length | In house/ As Buyer requirements |
| 17. Type of weave | In house/ As Buyer requirements         |
| 18. Twist per Inch | ASTM D 1422 ISO 2061 Untwist-Retwist Method |
| 19.Abrasion Resistance | Martindale EN ISO 12947 -Up to 10,000 Rubs -Up to 20,000 Rubs -up to 30,000 Rubs ASTM D4966 |
| 20. Pilling Resistance | I.C.I Pilling Box EN ISO 12945-1 Martindale Method EN ISO 12945-2 ASTM D 4970 |
| 21. Bursting strength | BS ISO 13938-2 |
| 22. Snagging Resistance | BS 8479 |
| 23. Stretch and recovery | Elastic Fabric BS EN ISO 14704-1 BS 4952 |
| 24. Absorbancy | AATCC 79 |
| 25. Wicking test | In house AATCC 197 |
|   26. Pull attachment | EN 71-1 BS 7907 -Up to Six button |
| 27. Oil Repellency | AATCC 118 |
| 28. Soil Release | AATCC 130 |
| 29. Determination of Single Thread Strength | ISO 2062 BS EN ISO 2062 |
Why fabric performance tests are essential for the textile industry?
Fabric performance testing is essential for the textile industry because it helps to ensure that the fabrics meet certain requirements in terms of their physical and mechanical properties. By conducting fabric performance tests, manufacturers can identify any potential problems with fabric before it goes into production. This helps to avoid costly mistakes and ensure that the final product is of the highest quality. In addition, fabric performance testing can also help to improve process efficiency and reduce wastage.
Fabric performance testing involves putting fabrics through a series of tests to determine how they will perform under different conditions. This information can be helpful in choosing the right fabric for a project, and it can also help you to understand how the fabric will hold up over time. Some of the factors that are typically tested include water resistance, wind resistance, breathability, and durability.
Fabric performance test (FPT) VS Garment's performance test (GPT)
Choosing the right type of fabric for a garment is important, as is ensuring that the garment is sewn correctly. However, it's also important to test the finished product to ensure that it functions as intended. In some cases, a fabric performance test may be more appropriate than a garments performance test.
Fabric performance tests are generally used to test the strength and durability of a fabric, whereas garment performance tests are usually performed to ensure that the garment fits properly.
Fabric performance testing is typically done in a lab or with machines like those used for clothing manufacturing. The garment performance test involves cutting and sewing a piece of fabric to simulate the appearance, fit, and function of a garment that is being produced by sewing.
It is not typically necessary to test the fabric while it is on a person. This is because the garment is already cut and sewn, so a garment performance test can be completed in a short amount of time. A fabric performance test typically takes hours to complete, whereas a garment performance test takes minutes.
Some Related Question that reflects the topic
What tests are done on fabric?
Fabric is often tested for a variety of different characteristics before it is used in products. The most common tests are for colorfastness, strength, and durability. Fabric may also be tested for other properties, such as flame resistance or water repellency. Today, the fabric is used in many different ways. From clothing to upholstery, it has become a popular choice for many products. However, not all fabrics are created equal and some may perform better than others. To find out which fabrics are the best performers, certain tests are conducted. One such test is the performance test.
How do you test the strength of fabric?
Fabric is often tested for strength in a laboratory setting. A piece of fabric is clamped in a machine and then pulled until it breaks. The force required to break the fabric is measured and recorded. This test is repeated at different points along the fabric's length, and the average breaking force is calculated. This information can be used to determine the suitability of a fabric for specific applications.
What are GPT and FPT in textile testing?
GPT means Garments Performance test and FTP means fabric performance test. A textile is tested in a laboratory to determine its performance and fabric performance. The performance test is the strength or stiffness of the yarns, threads, or weaves within the fabric, while the fabric performance test determines how well the fabrics will perform when it is used in an actual garment. The textile industry uses these tests to determine the suitability of a fabric for specific applications.
What is CIF in the garment industry?
CIF stands for cost, insurance, and freight. It is a term used in the garment industry to describe the price of a product including the cost of shipping it to the buyer. This term is often used when negotiating prices between buyers and sellers.
What are textile standards?
Textile Standards are important to both the textile industry and consumers. Textile Standards ensure that textiles are safe, of good quality, and meet certain environmental requirements. There are a number of organizations that develop Textile Standards, including ASTM International, the American National Standards Institute (ANSI), and the International Organization for Standardization (ISO).
You may read some other articles:
Research Links: