Dyeing of polyester and its dyes, and cotton dyeing and its dyes are totally different from each other. Because reactive dyes are used for cotton and dispersed dyes are used for polyester fabric normally. So that there is a little bit of confusion in everyone's mind that what is the best dye for polyester and cotton. yes, you are on right track and this article will clear your full confusion.
The best dye for polyester fabric depends on the polyester percentage of the fabric. 100% polyester fabric and polyester cotton blend fabric using dyes are a little bit different. So which dyes do you need, that totally depends on the fabric you want to dye.
Polyester fabric is a common choice for clothing and other fabric products due to its durability, wrinkle-resistant properties, and low cost. However, some fabrics may not be compatible with certain dyeing treatments, which can result in faded colors or an overall poorer look. So we can say that selection of the best dye is so important.
List of 4 best fabric dyes for polyester:
4 Superlative fabric dye for polyester Review:
Points should be taken in mind before selecting the dyes for polyester fabric
Some important point is discussed below for your better understanding.
Type of fabric you want to dye: At first, you have to select what fabric you want to dye. Because the selection of dyes totally depends on it. There are much fabric is available in the market, 100% polyester, PC(Polyester % is higher than the cotton), CVC (Cotton% is higher than polyester). Here every fabric needs its own dyes.
Selection of dye: The selection of the right dye is important to ensure good colorfastness and meet other performance requirements of the fabric. The property of colorfastness is sometimes called out in the supplier's literature as well. Colorfastness means that the chemical composition of the fabric remains unchanged when exposed to light, heat, or water.
Some other factors that should be considered when selecting a dye for polyester fabric include the fiber content, the type of dye, the level of lightfastness desired, and the colorant system. Fiber content Most synthetic fibers (e.g., nylon, polyester, and polypropylene) have a higher fiber content than natural fibers (e.g., cotton and wool) blend.
Dyeing methods: There are four common methods for dyeing polyester fabric: exhaust, continuous, batch, and pad-batch. Exhaust dyeing uses a high temperature, short cycle (less than 30 minutes), and high pressure (greater than 100 psi). The disadvantages of this method are that the fabric may be damaged when the dyebath is changed, and it is difficult to control the color. Continuous dyeing uses an acid bath and a low-temperature process. The disadvantage of this method is that it is difficult to control the color.
How to dye polyester fabric?
The polyester fabric dyeing process is different from others. So that we a video here for better understanding. This is the best easy dyeing process ever.
I have a details article about how to polyester fabric dying at home. You may read that article to betterment your knowledge. Click here>>
Polyester Dyeing using Disperse Dyes:
Most using dyes (disperse) in the present world is disperse dye for polyester fabric. Normally this is used at the factory level. It is also used at home dyeing. Polyester dyeing using disperse dyes is a process that is used to dye polyester fabrics. In this process, the fabric is first treated with a dispersing agent, which helps to evenly distribute the dye throughout the fabric.
Next, the fabric is dyed using dispersed dye, which is a type of dye that is specifically designed for use with synthetic fabrics. The results of this process are vibrant, colorfast fabrics that look great and wear well.
Comparison table of the 4 best fabric dyes for polyester:
Image
Title
Synthetic Rit Dye More Liquid Fabric Dye – Wide Selection of Colors – 7 Ounces - Graphite
Tulip Permanent Fabric Dye- Black (26588)
Rit DyeMore Liquid Dye, Royal Purple
Amesias 2 Pack Jacquard iDye Poly Synthetic Polyester Nylon Fabric Dye Black 14g/ 0.49oz with 4 Pieces Gloves
Some basic terms which you need to know for realizing the best fabric dye for polyester:
Black dye for polyester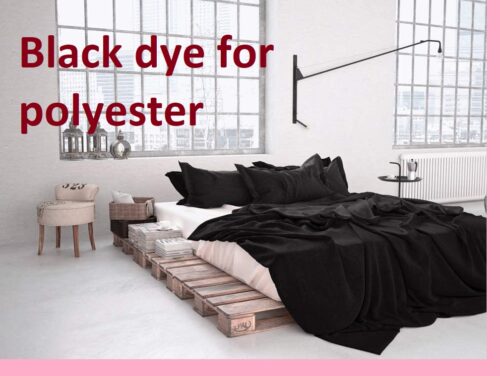 The black dye for polyester is a dye that is used to color polyester fabric a black color. The dye is a complex organic compound that consists of a large number of atoms that are joined together in a specific structure. The dye molecule is able to attach to the polyester fabric and color it a deep black shade.
The black dye for polyester is a pigment that is used to add color to the fabric. It is made up of complex molecules that are able to attach to polyester fibers. This allows the dye to stick to the fabric and create a uniform color. The dye can also be used to cover up any stains or blemishes on the fabric.
Disperse dye for polyester
In order to dye polyester fabric, dispersed dye is used. This dye is able to bind to the polymer chains in the fabric, creating a lasting color. The dye is dispersed in a liquid carrier, which is usually water. It is then applied to the fabric, where it will penetrate the fibers. After the fabric has been dyed, it needs to be washed and dried to set the color.
Disperse dyeing is a method of dyeing polyester fibers in which the dye is dispersed in a liquid carrier. The dye is absorbed by the fibers and then the excess liquid is removed, leaving the dyed fibers behind. This method produces a high-quality, even color and is used for both textiles and carpets.
Idye poly
idye poly is a dye that is soluble in multiple solvents. This dye can be used to create a variety of colors and shades, and it is perfect for use on natural fabrics like cotton or linen. idye poly can also be used on synthetic fabrics, but it is not recommended for use on wool or silk.
idye poly is a polymer made of repeating dye monomers. The structure of the polymer chain can be extended in any direction, giving idye poly incredible flexibility. This makes it an ideal material for a variety of applications, including fabrics, plastics, and adhesives.
Rit dyemore for polyester:
Rit dyemore is a dye specifically designed for polyester fabrics. It produces a vibrant, long-lasting color that is resistant to fading and washing. The dye is available in a variety of colors, so you can choose the perfect hue for your project.
The fiber dyeing process of rit dyemore for polyester yields intense and brilliant colors by using a synthetic dye. The dye molecule is able to attach itself to the fiber by forming a linkage with one or more of the polymer chains that make up the fiber. This type of bonding is called covalent bonding, and it is very strong. The dye molecule is also able to interact with the light that shines on it, causing it to absorb certain colors and reflect others.
Rit dyemore synthetic fiber dye
Rit dyemore is a synthetic fiber dye that is used to dye clothing and other fabrics. It is a very versatile dye that can be used for a variety of colors, and it is also known for its high quality and long lasting results.
Rit dyemore is a synthetic fiber dye that is used to color various types of fabrics. It is a powder that is mixed with water to create a dye solution. The solution is then applied to the fabric, and the fabric is allowed to dry.
Rit dyemore black
The dye is called "rit dyemore black" and it is a complex mixture of chemicals that produce a black color. The ingredients include basic dyes, acid dyes, and other colorants that work together to create a deep, rich black. The dye is permanent and will not fade or wash out over time. It is also heat-resistant, so it can be used on fabric that will be exposed to high temperatures.
This dye is created through a combination of synthetic and natural ingredients. The black color is achieved through the use of melanin, which is produced by special cells in the skin called melanocytes. This dye is permanent, and will not wash out or fade over time.
Rit dye polyester
Rit dye is a type of dye that can be used to color polyester. It is a complex molecule that consists of several smaller molecules bonded together. When it comes in contact with polyester, it penetrates the fabric and bonds with the polymer molecules, causing them to change color.
Rit dye is a type of dye typically used to color fabric. It can be used on natural fibers like cotton and wool, or on synthetic fibers like polyester. Rit dye works by bonding with the molecules of the fabric, forming a new color.
Frequently Asked Question:
What kind of fabric dye works on polyester?
There are a variety of fabric dyes that can be used on polyester. Some common types of dye that work on polyester are acid dyes, disperse dyes and vat dyes. Each type of dye has its own unique properties and benefits, so it is important to choose the right type of dye for the project you are working on.
The dye that typically works best on polyester is an acid dye. This type of dye uses a chemical reaction to create a bond between the dye and the fabric, which means it is less likely to fade over time.
Acid dye works on polyester because it is a synthetic fiber that contains a high percentage of polyester. The dye molecule attaches to the fiber by hydrogen bonding, which is a strong chemical bond. The acid in the dye molecule attacks the polyester molecule, breaking the bond and causing the dye to attach to the fiber.
A dye that will work well on polyester fabric is called disperse dye. This dye is made up of small particles that are able to attach to the polymer fibers in the fabric. The dye is then heat-sealed into the fabric, which results in a bright and vibrant color.
Can you dye 100% polyester fabric?
Yes, we can dye 100% polyester fabric. Polyester is a synthetic fiber made from polyethylene terephthalate, and it cannot be dyed using traditional dyeing methods because the fibers are not porous. However, there are several types of dye that can be used to color polyester fabric, including pigment dyes, heat transfer dyes, sublimation dyes, disperse dye, vat dye, and acid dyes.
Does Rit dye work on polyester?
Rit dye is a type of dye that is designed to work on natural fabrics such as cotton, linen, and wool. However, it is possible to use Rit dye on synthetic fabrics such as polyester, but the results may not be as vibrant or as long-lasting as when it is used on natural fabrics. But rit dyamore is designed for polyester dyeing.
Can you dye viscose and polyester?
Yes, we can dye viscose and polyester. But we can not dye these two different fiber at a time. We have to dye these two different fibers separately. First, we have to dye the polyester part and then dye the viscose part.
Can I use Dylon on polyester?
The dyeing process of polyester can be done by using a synthetic dye such as Dylon. The dye will attach itself to the fabric, and the color will become permanent. However, it is important to note that not all dyes are meant for polyester, so it is important to check the label before using it.
How do you dye polyester and elastane?
Polyester and elastane can be dyed using disperse dye, which is a type of acid dye that is applied in a dispersion or suspension form. The dye particles are small and evenly dispersed in the liquid, which makes them ideal for coloring synthetic fibers like polyester and elastane. The dye is first dissolved in a solvent, then added to the fiber-reaction vessel along with a dispersing agent.

Can you dye polyester with acrylic paint?
Acrylic paint is not recommended for use on polyester fabrics as it will not bond with the fabric surface and is likely to flake or peel off. Although it is possible to dye polyester with acrylic paint, the results will be unsatisfactory as the paint will not penetrate the fabric surface and will likely fade or chip over time.
More Details>>
Is polyester difficult to dye?
Polyester is not difficult to dye, but the dyeing process must be carefully controlled in order to achieve the desired results. The dye must be properly activated, and the fabric must be correctly pretreated so that the dye will adhere evenly. If these steps are not followed, the fabric may become streaked or blotchy. In addition, polyester is a synthetic fiber and therefore does not accept dyes as readily as natural fibers.
Does the Polyester dye well?
Polyester fabrics are generally not considered to be dyeable because they are not very absorbent. However, there are some types of polyester that can be dyed using specific methods. For instance, polyester satin can be successfully dyed using disperse dyes, which are a type of acid dye.
Can I tie-dye CVC (60%cotton + 40% polyester) fabric?
The answer to this question is yes, you can tie-dye 60 cotton 40 polyester fabric. The process of tie-dyeing involves using a dye to color the fabric and then tying the fabric into knots so that the dye doesn't reach all parts of the fabric evenly. This creates a marbled or tie-dyed effect. The combination of cotton and polyester fabrics will create a different effect than if either type of fabric was used on its own.
Theoretically, it is possible to dye 60% cotton and 40% polyester fabric together; however, in practice the results may be less than desirable. The two fibers will likely not take the dye equally, which can lead to a mottled or patchy finished product. In addition, the polyester may cause the dye to bleed more heavily than it would on pure cotton, resulting in a faded or washed-out appearance.
What can I use to dye the polyester fabric?
There are a variety of ways to dye polyester. One popular method is to use dispersed dyes. These dyes are designed to work with synthetic fibers like polyester. They are applied in powder form and will dissolve in water. Once the fabric is wet, the dye will attach to the polyester molecules and create a colorful pattern.
Will tea dye work for synthetic fabric?
Tea dye will not work on synthetic fabric because the dye molecule is too large to penetrate the plastic polymer. The dye molecule is also positively charged, and synthetic fabrics are negatively charged, so the dye molecule will be repelled by the fabric.
Final word:
Yes. I think this article is the best article for the best polyester fabric dye and for better understanding.
You may read some other articles: