If you're looking for a fun activity to do with kids, creating handprints on fabric is a great option. It's a simple and creative way to capture memories and make personalized gifts. However, is it difficult for you to search for the best paint for handprints on fabric that is 100% safe for kids? Because most of the paints are toxic. So that you have to select according to toxicity behavior.
Are your heads rolling and puzzling you? If so, this blog will help you pick the best color for handprints on cloth with a buying guide and select paints according to toxicity. Whether you're a parent, teacher, or caregiver, you'll find helpful tips and recommendations to create beautiful handprint designs that will last for years to come.
What is Fabric paint?
Fabric paint refers to a specialized type of paint designed for use on fabrics. It is a popular medium for textile artists, fashion designers, and DIY enthusiasts who want to personalize or revamp their clothing and home decor items.
Fabric paint comes in a range of colors, finishes, and consistencies, and can be applied using various techniques such as brush painting, stenciling, screen printing, and airbrushing. Whether you want to add a splash of color, create intricate designs, or write personalized messages, fabric paint offers endless possibilities for creative expression on textiles.
Furthermore, fabric paint can include in virtually any type of cloth, like synthetics. It's simple and reasonably cost-effective to use. Other methods such as heat transfer and sublimation are less available, and the transfer of abstract designs to fabric is far more expensive.
What is Hand Painting on Fabric:
Hand painting with fabric painting allows beautifying anything from clothes to home decor like curtains and tablecloths. It opens up all kinds of artistic expression possibilities. It helps to make original one-of-a-kind works of art, and it's not difficult to do.
Types of Painting:
Fabric paint binds the paint to the fabric, which does not worry about what form of material. There are different types of paint used for hand printing.
Acrylic-Based Fabric Paint
Alcohol-Based Ink
Fabric Dye
In the end, each painting will achieve a different look and effect.
The 5 Best paint for handprints on fabric is shown in the table below:
New 2023 updated 7 best paint for handprint
Which is the Best Paint to Use for Kids:
The paints which have a lower degree of toxic material are the best paint for kids. Fabric paints are in different forms available. Paintings made to squeeze on the material can be found—the cloth's spraying and the conventional brush textile layers.
You may use the brush to draw the designs or use sponges, stickers, and rollers. As kids have lots of work to complete, we've listed the best paints for kids –
Simply Washable Tempera Paints
If you are searching for one type of paint, this is the best fabric paint and is budget-friendly.
Bio Color Paints
This paint is inexpensive and dries shiny and joins to other surfaces.
Activity Paints
It's an all-rounder paint which is a bit thin and sticky.
Liquid Watercolors
It's an excellent paint suitable for all kinds of art activities, science experiments, etc.
Finger Paints
These were paints that simply maintain some low price, high quality, and excellent color selection.
Review of 5 best paint for handprints on fabric products:
After completing a massive analysis, we recommend using 11 of the best products on the best paint for handprints on fabric, with their description, key points, pros & cons, and guidelines.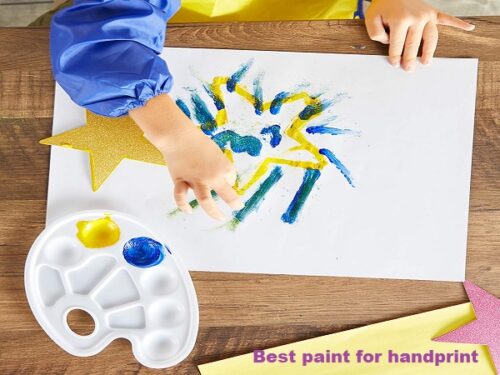 [su_button url="https://amzn.to/3fIUUXn" target="blank" style="soft" background="#eaac2c" color="#000000″ size="7″ center="yes" icon="icon: amazon" icon_color="#000000″]Check Today's Price[/su_button]
This is a fantastic paint set. Add this to your collection. Improve your creation by finger. It will help you to decorate your classroom, office, or home. They have bleed-resistant paper. Also, you can allow children to use this paint. Moreover, it is usable for stamps.
Key Features:
Finger paint pad: Toddlers can easily handle this with their little fingers.
Multipurpose: Finger-painted papers are suitable for painting with brushes, sponges, or stamps.
Reliable quality: Children can use this by themselves. So, less supervision is required.
The perfect size: Pads measure 17 × 12 inches. It Contains 50 sheets per pad.
Opinion: In the vast area of art paper, a paper pad is super beneficial. Can handle fingers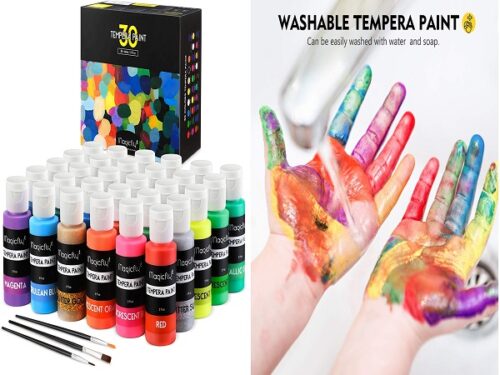 [su_button url="https://amzn.to/39Kpg7Y" target="blank" style="soft" background="#eaac2c" color="#000000″ size="7″ center="yes" icon="icon: amazon" icon_color="#000000″]Check Today's Price[/su_button]
This product attains 30 Vibrant Colors. This washable tempera paint carries- natural, metallic, neon, and fluorescent colors with three gift brushes. The washing capacity is outstanding, But there is no trash for both grown-ups and youngsters.
Key Features:
Thirty colors: Each tube contains 60 mL of fluid.
Washability: Washing capacity is Supreme. No need to carry stain remover.
Age limit: 8-12 years of child.
Supervision: Needed for the underage child
Opinion: After purchasing this one, you must follow the safety protocol. By this point, sets make your kids happier.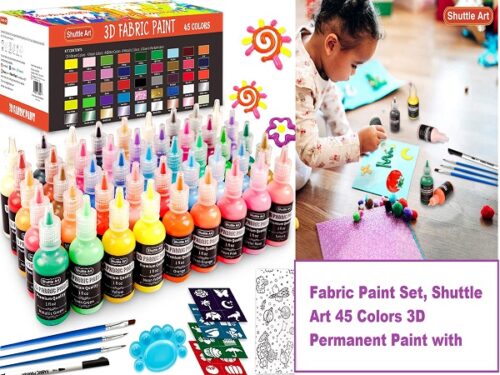 [su_button url="https://amzn.to/3dypxMI" target="blank" style="soft" background="#eaac2c" color="#000000″ size="7″ center="yes" icon="icon: amazon" icon_color="#000000″]Check Today's Price[/su_button]
Show your talent with this artistic masterpiece. Fabric Paint Set comprises so many facilities. This paint set can reach you to your expectation. So, purchase this set without turmoil.
Key Features:
Forty-five vital colors: 25 typical, 6 Neon, 4 Glitter, and one glow-in-the-dark paint.
Excellent quality: Made from a highly characteristic substance, these 3D Fabric Paint won't break or cut even after rinsing, which can protect big tasks for an increased period.
Multi–colors: Fulfill your task with tremendous color.
Opinion: Dear buyer, I hope you will get benefited from purchasing this paint set.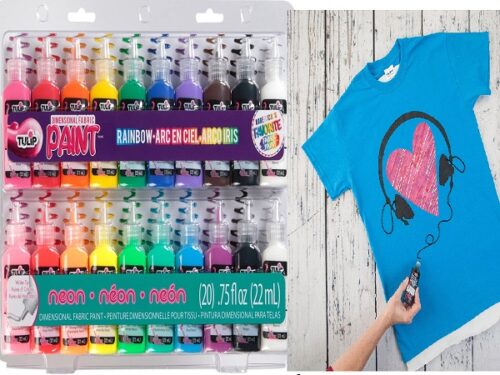 [su_button url="https://amzn.to/3ws4AeR" target="blank" style="soft" background="#eaac2c" color="#000000″ size="7″ center="yes" icon="icon: amazon" icon_color="#000000″]Check Today's Price[/su_button]
A tulip fabric pack is vastly helpful for a fashion party. The tulip dimensional Fabric Paint party pack contains 20 non-toxic dyes. These are having an exhibition of sunny and neon colors. Pigments can dry with an ultra-shiny glaze. This one is a favorite American painting.
Key Features:
Fabric party pack: This is entirely forgiving.
Safe: It is protected, and everyone can use it without risk.
Creation Possible: you can create Doodles, sketches, and terms is super simple.    
Premium task: Mainly works on clothing. Moreover, beneficial for making posters, canvases, glass, wood, and more.
Exact for variation of household art.
Opinion: Most people had reviewed this product as the best in performance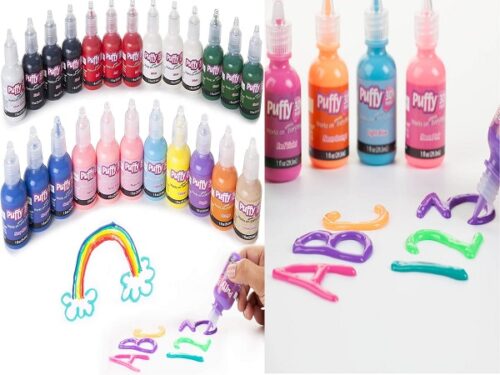 [su_button url="https://amzn.to/3sUTdtA" target="blank" style="soft" background="#eaac2c" color="#000000″ size="7″ center="yes" icon="icon: amazon" icon_color="#000000″]Check Today's Price[/su_button]
Everyone loves this paint gladly. Because it has a high-quality process, this one is so much more reasonable and loyal to use. In crafting and fashion design, puffy fabric paint entails the top position. Do your project with fun and relaxation.
Key Features:
Projects are helpful: Accurate for a school project, camping, and so on.
User Friendly: This is suitable for all generations. Everyone can use this set.
Dimension: Multi-Surface. That's why this is affordable to use.
Colors Mixture: 24 compulsory paint color combinations.
Opinion: According to user demands and choices, I would like to recommend this one as the best for you.
Buying Guide
Handprints on fabric can apply to virtually any fabric type, including synthetics. Other methods of transferring heat and sublimation to artistic designs such as fabrics are less accessible. And the costs are substantial.
It's an excellent activity for kids and participating in groups. A small amount of fabric paint can go a long way. And very little supply is needed to get started. Initially and seasoned artists can create great personalized crafts together without meeting individual skills individually.
When kids create their designs and then wear them, nothing else can be satisfied. Just like that, seeing a family or friend wear your creation is excellent. Check out the guide below to start with fabric painting crafts.
Fortunately, fabric paint is also known as a textile paint. Usually, it is more important to choose a color that is compatible with it.
Since there are many ways to paint the fabric, including brush painting, spraying, and paint markers, you should choose the paint that will work best for your application method. The pigment is another method, which is technically used for colored fabrics using paint techniques. However, it is less popular.
Textile paint is used in various ways, such as leather, wood, and synthetic materials.
What kind of paint do you use on a canvas for handprints?
The kind of paint used on canvas for handprints can be acrylic, tempera, or oil. Acrylic paint is a fast-drying paint that is made from water and pigment. It is usually used on canvas because it dries to a hard, glossy finish. Tempera paint is also made from water and pigment, but it dries more slowly than acrylic paint and has a matte finish. Oil paint is a slow-drying paint that is made from oil and pigment.
Best materials for baby handprints & footprint keepsakes
Crafts are featuring your newborn's handprints or footprints, which make great keepers, decorations, and gifts. Your baby continues to grow. It will be nice to have a unique way of remembering how small your baby was once.
Handprints or footprints are also an easy DIY project. Here are tips for the best materials to use when storing your baby prints. Fabric paint is the type of paint, which you should use to display handprints or footprints on the fabric.
Textile medium is mixed in the fabric paint. So that it is less rigid when it dries, and when it dries, it lasts! The paint is applied to the fabric once. You can even run the fabric through the washer or dryer as needed!
Best paints to use for handprints:
Suitable for 10-packs of small bottles. Because you get a variety of colors. Sometimes I buy a 3-pack of primary colors. Since we use those colors the most. That way, we never run out!
Our next purchase is great for kids spectacular. I haven't seen them yet. And I'm very excited about it since my little sister likes to use glitter for everything. Even handprint fish!
Probably the most practical and cheapest will buy powdered Tempera paints. Then you want to use that continuity. You can mix them in it. And you get more for your money. 
How to make handprint tulips
Suppose you have a child who does not like to draw fingers. But you should not do this project.
There are no templates for this project. Sunday school advice from Sarah in California (thanks, Sarah!):
You can only see clearly. It is not just a tulip, so I made it with my own hands. It comes with a lot of love.
Best Fabric Paint for the T-Shirt:
Do you want to design your t-shirt beautifully without using expensive methods like screen printing? Then use the best fabric paint.
These paints are expensive and are used exclusively for fabric art. They are available in small tubes. Most are liquid in shape. You can apply them directly from the bottle using a brush or spraying, depending on the model.
There are lots of fabric paints on the market. Not all of them are attached to your T-shirt. The best colors for T-shirts that most people use are:
TULIP Soft Fabric Paint: Tulip soft fabric paint for the t-shirt. It is soft fabric paint. 
Fuffy rainbow 3D paint pack: These fabric paints can be machine washed, and the color stays the same after drying.
Fabric & Textile UV Paint Set: It is set at 8 Neon Black Light color and Glows Paints. 
Fabric Creations Fabric Ink in Assorted Colors: Fabric Creations Fantasy Fabric Ink Paint, 2 oz, Glitter Cosmos.
Best Fabric Paint for Cotton:
The best paint for cotton is going to be fabric paint. These items are easy to work with or designed with fabrics. Fabric paints for cotton help you plan your clothing individually.
When you buy paint, consider not only the color but also the technique of its application. The best dyes for cotton are:
Jacquard Textile Color Fabric Paint: Eight different colors have been set; this fabric paint is used mainly for cotton by artists, professionals, and the general public.
Tulip 29375 Soft Fabric Paint, 5-Pack: Great for use on the fabric of all colors. It includes (10) 1oz bottles of paint and is great for cloth of all colors.
Best Fabric spray paint for T-shirts:
Have you ever sprayed before? But now looking for a trendy tee shot to support you and your favorite sports team? You can do it at home now. You can design your T-shirt as you like through spray painting.
There are some spray paints on the market that you can get within your budget. These spray paints complement your taste as well as the simple art of wearable fabrics.
The best Fabric Spray paints are:
DIY Fathers day handprint T-shirt:
Do you want to surprise your dad for Father's Day? Then you can make a handprint craft T-shirt, which could be the best gift for this year.
Make it yourself. You can do it quickly and easily.
First, take a simple t-shirt.
Paint some fabric in some fun colors.
Dip your or your child's hand in the paint. Press their prints on the back of the shirt.
Write Father's Day in the blank space on the shirt.
It should be dry in 24 hours.
FAQ ( Frequently Asked Question) 
1. Is it Ok to use Acrylic paint on fabric?
Ans – Yes, it is practical to use acrylic paint on fabric. Typical examples include pillows, shirts, and shoes. Acrylic paints work wonderfully. Without even drying them down, you can dye fabric directly. Unlike dye or fabric paint, the material will stay a little stickier if Acrylic is not designed for fabric painting.
2. What paint is permanent on fabric?
Ans – The most typical textile paint is an acrylic polymer, also classified as textile paint. This Acrylic, applied to a pigment and mixed, makes the paint durable and multiple sunlight washes and sunlight. When you turn the heat on a dryer or iron that dries, it's still there.
3. How do use make t-shirt handprints?
Ans – Cut the piece of carton to have the shirt spread over it. The paint would therefore keep the other side of the t-shirt from penetrating. Place any color on a tray that you want to use. Press on the shirt a couple of times until the prints in hand are faint. Stick your hand in the ink.
4. What kind of paint can you use on your hands?
Ans – Washable tempera coatings are the best ones to use for handprint painting. It should be labeled as non-toxic to ensure that the mark is safe. You're going to like those who aren't too runny and not too dry.
5. What paint is safe for the skin?
Ans – The best bet is on body paint and face paint. Many of the water-based painted paints today are well-regulated and comply with stringent standards. It is ideal for infants, as it is not harmful and can be washed away easily after use.
6. What paint is safe for baby skin?
Ans – Non-toxic acrylic paint should be labeled and checked for a label that says it is washable. That's why the best thing you can find for your baby's handprints are tempera paints or Crayola paints. Ink is also a doctor's choice and less dangerous.
7. What does hand-painted mean?
Ans – This is a hand-colored process that uses wax as a color repellent to cover a pattern's pieces, colored and dissolved wax in boiling water. It's a method of teasing the materials in hand. The fabric paints that way.
8. What types of paintwork are best on fabric?
Ans – Unique designs can be fabric paints for clothing, polishing, or any material. The colors are designed specifically to avoid fading and resistance to washing.
Conclusion:
Decades before, people and art enthusiasts used to paint and design using brushes and tools. For children and groups, the best color for handprints on cloth is also fun to watch.
The little fabric paint goes a step further, needing very few objects. Newbies and art lovers create fantastic personalized ideas together, attempting to adapt themselves to real skills. So I think you are clear about the Best Paint For Handprints On Fabric.
Research Links:
You may read some other articles:
You can find us on: