The quality assurance/control flow chart of all-over print(AOP) means the chart which represents the whole working procedure of the quality control manual. A quality assurance flow chart defines the process and steps involved in ensuring the final product meets the expected standard. The All Over Print method is no different, and therefore, requires a comprehensive quality assurance process to ensure that the final product is of exceptional quality. This chart outlines every aspect of the production process to ensure that everything is controlled and monitored at every stage.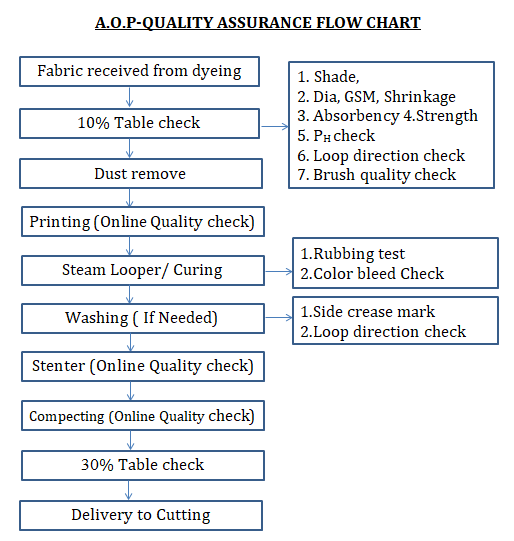 Quality assurance/control flow chart of all-over print(AOP)
10% Table check
Dust remove
Printing Online quality check
Steam looper or curing
Washing if needed
Stenter online quality check
Compacting online quality check
30% table check
Delivery to cutting
Some steps need to explain of AOP quality assurance flow chart
10% table check: The checking points are–
Shade
Dia
GSM
Shrinkage
Absorbency
Strength
PH check
Loop direction check
Brush quality check for fleece fabric
Steam looper/ Curing: It is done normally at high temperatures so that the points should be checked–
Rubbing test
Color bleed check
Washing: Points should be taken care
Side crease mark
Loop direction check
Conclusion:
In conclusion, a quality assurance flow chart of all overprints is an essential tool to ensure the smooth production process of prints. It helps in identifying any possible problems and ensures quality standards are met. By following the flow chart, manufacturers can minimize defects, increase efficiency and improve customer satisfaction. To get a better result every AOP company should have to maintain the stated above points.
Research Links:
You may read some articles also:
You can find us on: