The garment finishing department in the textile industry is the last stage of all processing. So that it needs a standard operating process for better results.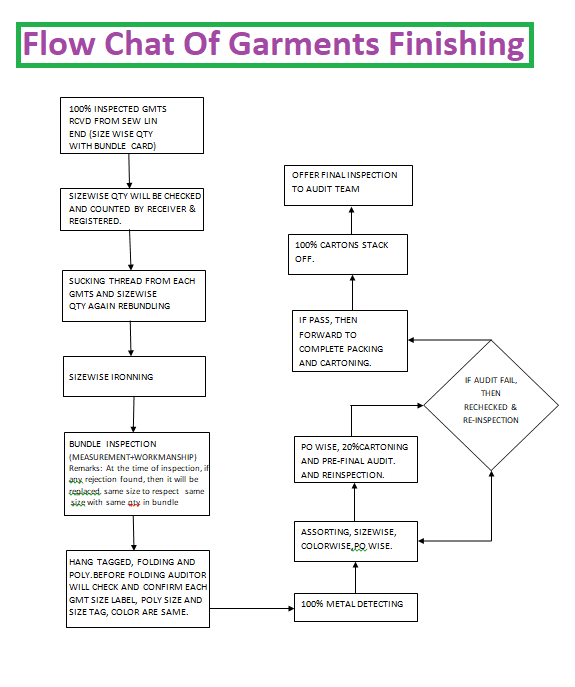 The Flow chart of garments finishing sop is given below:
Start
⇩
Receive the garments from the sewing line according to size with quantity.
⇩
Inspect all the garments according to bundle card size and quantity.
⇩
Count all the quantities and registered.
⇩
Sucking thread from each garment and bundling according to size.
⇩
Size-wise ironing.
⇩
Bundle inspection (At the time of inspection, if any rejection found, then it will be replaced the same size to respect the same size with the same qty in a bundle).
⇩
Hand tag, folding and polibaging ( Autitor will check and confirm all the garments size label, Polibag size, size tag, and color before folding).
⇩
100% Metal detecting.
⇩
Assorting size-wise, color-wise, and po-wise.
⇩
Cartooning 20% PO wise for pre-final audit and rejection.
⇩
If the audit fails, then recheck and re-inspect.
⇩
If pass then go for complete cartooning and packing.
⇩
100% cartoon stack off.
⇩
Offer for final inspection to audit team.
⇩
If ok, then ready for shipment.
⇩
End
You may read some other article: