Introduction of viscose fabric dyeing process
Viscose fabric dyeing process is so sensitive process in the dyeing industry. Viscose is regenerated cellulosic fiber. Its strength is not as good as cotton fiber. As a result, it needs extra care during processing. It is famous for its end uses. Soft hand feel and glossy effect make itself famous. viscose dyeing with reactive dyes because it is a cellulosic fiber.
Peaple alows ask some question like:
Can you dye viscose?
What is the viscose process?
How bad is Viscose?
What does viscose feel like?

Ansower:
Yes viscose can dye. But there is a special process to dye. Viscose is a soft and low strength fabric. As a result is bad for dyeing. Viscose is a feel like silk fiber.
Knitted viscoss fabric dyeing process are discussing below:
Viscose dyeing process step by steps:
AN+OSR= Inject
Temp 40c*= Fabric Load
Soda Ash Lt +VSC Dosing 5 minute 
 H2O2   Inject
Runtime 80c*40 Minute
Drain
Normal Hot 70*10
N Wash
Acid 60*10 Minute
---
Start Dyeing
Levelling P.H check 6.20
Levelling Dosing 60c 3 Minute
Color Dosing 25 Minute
Runtime 10
1st 10% Salt Dosing 10 Minute
Runtime 10 Minute
2nd 20% Salt dosing 10 Minute
Runtime 10 Minute
3rd 70% Salt dosing 10 Minute
Tempeture 80c 15 minute
Colling 60c
Salt Sample check + Fabric Quality Check
1st 10% Soda dosing 15 minute
Runtime 10 minute
2nd 20% Soda dosing 15 minute
Runtime 10 minute
3rd 70% Soda dosing 15 minute
                                                                                                                                               Runtime 10 minute
        Sample Check      
BD
---
Start after treatment
Normal Hot wash
Soaping hot as required as shade
Acid
Unload
viscose fabric dyeing process by Diagram or a time vs temperature Graph:
A time vs temperature graph of visscoss fabric dyeing process by a image: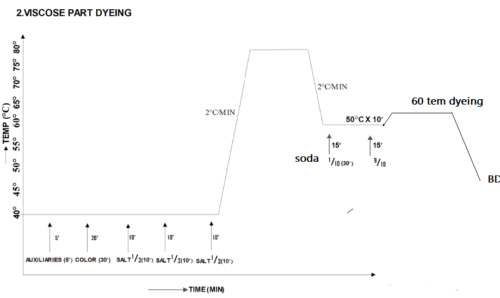 A complerate viscose fabric dyeing process of practical experiment:
Here I discussing about a practical experiment from a famous knit dyeing factory.
A complete viscose dyeing recipe
A full dyeing sequence of a viscose single jercy fabric
A finish fabric swatch of discussing experiment fabric.
viscose dyeing recipe:
| | |
| --- | --- |
| Chemical Name | G/L |
| Detergent | 2.00   |
| Anticreasing agent | 2.00 |
| Oil remover | 1.00 |
| Soda Ash Lt | 2.00 |
| H2O2 | 1.00 |
|   |   |
| Peroxide killer | 0.15 |
| A. Acid | 0.7 |
|   |   |
|   |   |
| Levelling agent | 2.00 |
| Anticreasing agent | 2.00 |
|   |   |
| Dyes% |   |
|   |   |
| Glober Salt |   |
| Soda Ash Lt |   |
|   |   |
| Soaping agent | 0.80 |
| Anticreasing agent | 1.00 |
| Levelling agent | 2.00 |
|   |   |
| Core Neutralizer | 0.70 |
Viscose fabric Dyeing recipe
You can find us:
You can read some article below:
natural dyeing process of cotton- For practical use & experiment
textile dyeing process-for practical use
dyeing flow chart- with successful implementation practically 2021