Introduction of natural dyeing process of cotton:
Natural dyeing process of cotton is the application of natural dyes to the fiber molecule of cotton fabric. It is the most recent technology in the sence of sustainability. It is the most popular dyeing procedure at present. Because less amount of hazardous chemicals are using here. As a result, user converting to the natural dyeing process of cotton. Now a practically applied procedure is discussing below.
Process flow chart of natural dyeing of cotton: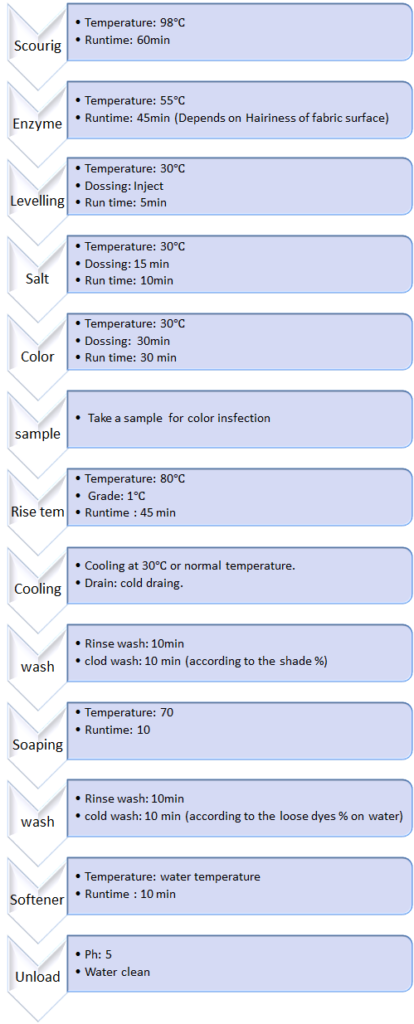 Complete documentation of the practical natural dyeing process of cotton with a diagram
Fabric: 100% cotton.
Color: Yellow
Preparation of Dyeing recipe:
REQUISITION FO DYESTUFF & CHEMICALS
| | |
| --- | --- |
| Date              : | 00-00-00 |
| Batch No       : | 1000 |
| Shade/Color  : | Yellow |
| Quantity        : | 1000Kg |
| L.:R.              : | 1:8 |
| Total Water   : | 8000 Ltr |
Buying House :
Practical Textile
Buyer              :
P T
Order No         :
100
Machine No    :
 
Type of fabric :
100% cotton
Sro No             :

Dyeing Recipe:
 
SL#  
Name of the chemicals
G/Liter
%
Req'd Qty. In Kg
Issues Qty.
Remarks
Pretreatment :
1
Detergent
1
 
8.000
 
 
2
Anticreasign agent
2
 
16.000
 
 
3
Caustic
2.0
 
16.000
 
 
4
H2O2
2.5
 
20.000
 
 
5
Acetic Acid
 
 
8.000
 
 Depends
6
Peroxide killer
0.15
 
1.200
 
 
7
Enzyme
0.25
 
2.000
 
 
Dyeing :
8
Leveling agent
1.00
 
8.000
 
 
9
Anti creasing agent
1.00
 
8.000
 
 
10
Yellow xx
 
3.0
30.000
 
 
11
 
 
 
 
 
 
12
Glober Salt
30.0
 
240.000
 
 
After Treatment :
13
Soaping agent
1.0
 
8.000
 
 
14
Anti creasing agent
1.0
 
8.000
 
 
15
 
 
 
 
 
 
16
Fixing agent
1.0
 
8.000
 
 
17
Softener
1.0
 
8.000
 
 
 PRACTICAL TEXTILE                                      PRACTICAL TEXTILE 
     Issued                                                                              Prepared by                                                      
Dyeing sequence: We cut the sample for every stage of the natural dyeing process. As a result, you can understand easily. This is the example of a reupdated factory.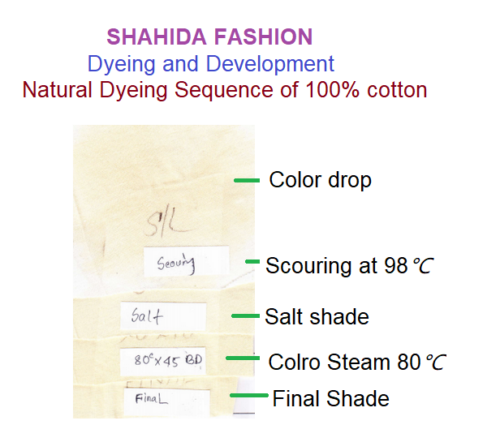 After unloading the fabric we send it to the finishing department.
After that slitting> stenter> compacting occurs. Finally, we got the finished fabric.
The finished fabric picture is here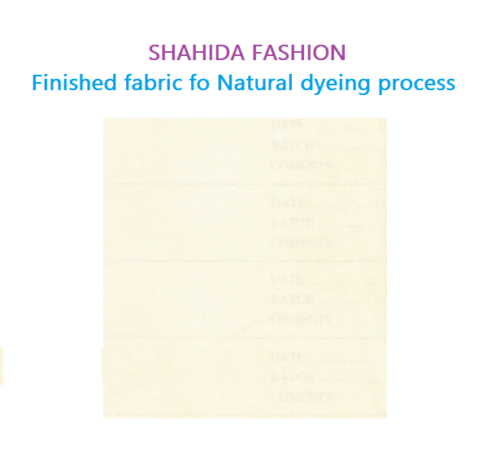 Natural dyeing is an eco-friendly dyeing process. The output product of natural dyeing is a health response. So that everyone should use this product. In natural dyeing, there is some advantage and disadvantage.
Advantages of natural dyeing technology or dyes stuff:
Eco-friendly dyes.
These dyes are made from natural sources. As a result, they are sustainable because the dyed cellulosic fabric contains no hazardous man-made chemicals like Azo pigments or Azo dyestuffs.
The natural colors are exhaust completely. As a result, the drain water is completely clean. Also, the first rinsing bath will be completely clean. This is sustainable dyestuff because there are no residues from the binder. Here are pigments in the drained water and rinsing bath.
Natural dyes used in textiles contain no Azo dyes, which means the recycling of used clothes is sustainable, which means the pigments are suitable for the "cradle-to-cradle" philosophy.
Disadvantages of the natural dyeing process of cotton:
  The color range is limited. So that various color is not possible.
  The fastness properties of natural dyes are not up to the mark specially the light and color change after washing. Generally, the light fastness for light colors 1-2. For dark color 3. change of color after wash 3.
Shade variation is more than the normal dyeing process.
Discharge print is not possible.
Even dyeing is not possible normally.
Conclusion:
The world is going toward sustainability So natural dyeing is the better option for sustainability.
For further information, you can visit
Speciaally on facebook
ANY CONFUSION JUST ASK HERE